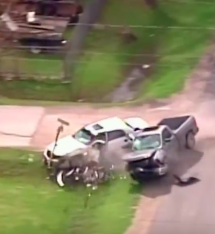 Local news cameras captured a high speed police chase that came to an abrupt end when the fleeing vehicle broadsided an innocent motorist outside of Houston on Tuesday.
According to police, officers began the pursuit after locating the stolen truck with a GPS locating device.  Moments earlier, a person called to report being the victim of a carjacking in Pasadena, Texas.  Officers chased the stolen truck for several miles and an ABC 13 helicopter camera captured it all on video, including the sudden and violent conclusion.
As the stolen truck approached an intersection in a residential area of Cloverleaf, it appears to blow through a stop sign at a high rate of speed and plows into the side of a vehicle driven by an innocent motorist.    ABC 13 blurred the video after the impact because one of the two suspected carjackers was ejected through the windshield of the stolen pickup truck.  The other suspect, also injured, attempted to run but was captured by officers after a brief foot chase.
The driver of the other vehicle was also injured, according to the report, however, there is no word on the extent of any of the injuries.
WATCH: 
[h/t ABC 13; image via screengrab]
Have a tip we should know? [email protected]