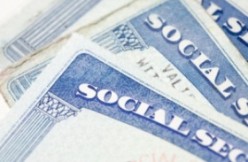 A man faces a load of fraud charges, but that's not the worst thing he's accused of. Federal authorities say he collected his father's benefits while dad lay buried in a trailer park.
A renter in Boynton Beach, Florida discovered skeletal remains while gardening at his trailer in April 2013. Cue the inevitable investigation. Authorities say those remains belonged to the trailer's former resident, Henry Thurston Davis Jr., 68. His death was ruled murder by strangulation.
On top of that, they say his benefits (social security and retirement checks) were being collected by his son, Jason Henry Davis. The younger Davis now faces almost two dozen financial crimes for cashing $119,000 of his dead dad's money. Authorities say Davis has been at it since 2008, and kept going even after the body's discovery.
Davis insists his dad's ex, Sheila Davis, was the killer, according to an unnamed source for the Palm Beach Post. But she died of cancer some time ago.
Despite the shady allegations, authorities aren't charging him in his father's death. They think he knows the circumstances of the murder, though.
Davis faces 12 counts of aggravated identity theft, and two charges of making false statements to receive food stamps, among other accusations. That possibly means 20-years of prison. Maybe more. Might mean fines, too.
He pled not guilty Wednesday, and agreed to postpone his scheduled bond hearing.
[h/t Palm Beach Post, image via Social Security Administration]
–
>> Follow Alberto Luperon on Twitter (@Alberto Luperon)
Have a tip we should know? [email protected]