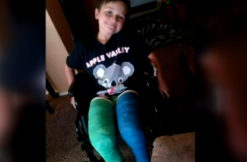 An 8-year-old is suffering without his stolen leg braces, according to the child's mother and grandmother.
Riley (whose family name wasn't given in media coverage) lives with complex, bilateral club foot. That means certain tendons are shorter than usual, so his ankles are always bent sharply. It's impossible for him to walk without his specially designed leg braces. It's like he'd be standing on the edge, if not tops, of his feet. Again: This is debilitating.
But his family says someone broke into their car one night and stole Riley's braces, according to a report by NBC Los Angeles.
"It's hard for me because my legs are going to hurt," Riley, who lives in Victorville, California, said. "I want my braces back please."
Riley's mom, who did not want to be identified in media reports, is distraught. The loss of the braces could reverse all the treatment they've done to ease her son's condition. For now, the kid has to stick to his bed or couch. He absolutely cannot move without someone else's help.
"Everything got ripped away from us because if he's not in them, his feet could turn back in, and we do it [the surgeries and treatment] all over again," Riley's mother said.
Between paying for doctor visits and surgeries, they can't come up with the $5000 for new braces.
Riley's grandmother, Shirley, just wants the thief to do the right thing. "You need to turn [the braces] in somewhere," she said. "Even if you don't turn yourself in because he's a little guy, and he needs them and he's been through 8 years of hell."
If caught, the thief (or thieves) might face grand theft, a felony in California, since the braces are valued over the baseline of $950. Sentences can last up to 3 years.
[h/t NBC Los Angeles]
–
>> Follow Alberto Luperon on Twitter (@Alberto Luperon)
Have a tip we should know? [email protected]