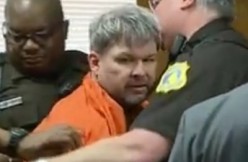 The Uber driver accused of killing six people in a February shooting spree was pulled out of court after yelling at a woman on the witness stand.
Tiana Carruthers was testifying when defendant Jason Dalton started with his outburst, talking about "old people" with black bags, and someone needing "to go to temple." It's unclear what brought this on. Carruthers broke down crying, and the judge called for recess. Four sheriff's deputies literally dragged him out since he simply went limp rather than walk.
Here's video via The Daily Mail.
Carruthers was reportedly shot three times while protecting children from gunfire.
Dalton was arrested and arraigned in February for going on a day-long spree in which he is accused of killing six people, and wounding two.
This isn't the first time he's made bizarre statements. In March, he blamed his alleged actions on the Uber phone app.
–
Follow Alberto Luperon on Twitter (@Alberto Luperon)
Have a tip we should know? [email protected]