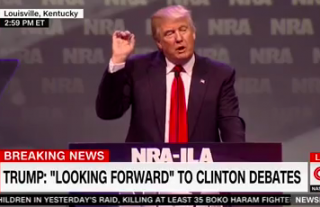 During the much anticipated National Rifle Association Convention speech, Donald Trump took to the stage to tout his Second Amendment credentials, and of course, bash his opponent Hillary Clinton. He called on the presumptive Democratic nominee to release her list of potential Supreme Court nominees. This comes following the release earlier this week of his list which included 11 judges who he would consider for the U.S. Supreme Court.
"I'd like to call for Hillary Clinton to put together a list also. Let her put together a list because I would like to see what that list consists of, and you will see it's day and night," he said. "Day and night. And it will not be good for the people in this room, and it won't be good, by the way, for the people of our country, most importantly," he said.
On the campaign trail, Clinton has pushed for the Senate to move forward with hearings and vote on President Obama's Supreme Court nominee, Merrick Garland.
"In a single term, the Supreme Court could demolish pillars of the progressive movement," Clinton said in March in Wisconsin. "As someone who has worked on every single one of these issues for decades, I see this as a make or break moment."
Have a tip we should know? [email protected]
Rachel Stockman - President / On Air Host