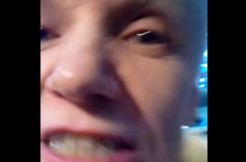 In a video posted to YouTube, a volunteer at Wake Forest Baptist Health in North Carolina appears to try to shove the father of a patient out of her office. The man, Isaiah Baskins, started recording on what seems to be a phone after she allegedly called him the n-word (he's black). In the footage, she yells at him, pushes him, gets right in his face. Even seems to try to kick him, though her lower body was out of frame.
This might seem kind of mundane. It isn't. People get mad all the time, but rarely like this. You really need to see this video. It's something else:
Baskins and his daughter seem surprised and distraught by her actions.
"Shut your mouth up!" the volunteer said to the daughter after removing her baby carriage from the office.
"What's wrong with you?" the daughter said.
"You shut up! What's wrong with you?" the volunteer said.
"What's wrong with me? I'm scared because you're yelling at us," the daughter said.
Then things, as they do, escalated. After calling someone to remove Baskins and his daughter out of the office, the volunteer started trying to shove him out.
"Don't touch my baby, lady," he said. This refers to a toddler who accompanied Baskins into the office. The volunteer (out of frame) allegedly either touched the child, or almost did.
In the footage, she can be seen complaining about someone's "gray underwear." This seems to be the reason she got set off. Apparently, it was visible over the hem of their pants. For example: "Get your damn underwear out of here," she said at one point.
A couple of security guards and a few hospital employees eventually arrived to defuse the situation. By now, Baskins, daughter, and the children were standing outside of the office. A guard can be seen firmly telling the volunteer several times to return to the office after she apparently tried to approach Baskins.
Baskins posted the video to YouTube on April 14, and a Wake Forest Baptist Health spokesperson wrote an apology in the comments section on Friday. The statement said the volunteer no longer worked for the hospital.
"If they haven't already, one of our senior executives should be reaching out to you shortly," the statement said. "Again, we apologize for this appalling incident."
[h/t The Winston-Salem Journal]
[screengrab via YouTube]
–
Follow Alberto Luperon on Twitter (@Alberto Luperon)
Have a tip we should know? [email protected]