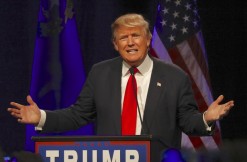 Donald Trump lashed out at the delegate system of Wyoming and Colorado during a Saturday interview with Fox & Friends, saying it's all a "pay off" that has pushed out regular voters.
He said he did badly in Colorado because "I don't want to waste millions of dollars going out to Colorado knowing the system is rigged. I don't want to waste millions of dollars going out to Wyoming many months before to wine and dine and essentially pay off all these people. Because a lot if it's a payoff, you understand that. They [candidates] treat them [delegates], they take them to dinner, they get them hotels. I mean the whole thing's a big payoff. It has nothing to do with democracy."
Republican delegates in those states are chosen in state conventions, not primaries open to registered voters. Texas Senator Ted Cruz won all of Colorado's 34 delegates last week, leading to Trump criticizing that process in a Wall Street Journal op-ed published on Thursday. Wyoming is in the middle of its convention, which ends Saturday, April 16.
This also echoes his comments from an April 11 interview, when he told Fox & Friends "the system is rigged," actually implying Democratic candidate Bernie Sanders should be doing better in primaries.
The 2016 Republican National Convention is scheduled for July 18-21. Delegates are bound to candidates until after the first ballot. Though Trump is the frontrunner for the party nomination for the presidency, he only has 744 delegates earned through the primaries. That's not enough for the 1,237 required just yet. Both campaigners and commentators expect a struggle for delegates at the convention.
[image via Shutterstock]
–
Follow Alberto Luperon on Twitter (@Alberto Luperon)
Have a tip we should know? [email protected]