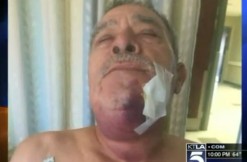 Security footage captured a Wednesday incident when Jose Chacon was attacked by a much younger man with a baseball bat. But the 72-year-old did not go down easily.
Police say the attacker is Samuel Elijah Alvarez, an 18-year-old, who freaked out at the older man. Chacon had been walking to his own car, when he accidentally fell and struck Alvarez's vehicle, according to Cpl. Anthony Bertagna of the Santa Ana Police Department in California.
The men began arguing, then Alvarez whipped out an aluminum bat from his car, and attacked Chacon, Bertagna said, according to KTLA. The 72-year-old found a pipe, and tried defending himself.
You can see the video here, as part of KTLA coverage:
Chacon was knocked out with a blow to the face, and sustained serious injuries. Hospitalized, he was sent to an intensive care unit, his jaw wired shut. NBC Los Angeles reports he's written his family short notes, telling them everything will be okay.
"It's really, really hard to see him in the state that he's in," said his daughter, Vanessa Johnson. "He's truly loved and adored and we miss him at home." She can't bring herself to watch the footage.
The investigation is ongoing, and no charges have been announced. "Apparently, this individual [Alvarez] is also from the neighborhood," Bertagna told NBC Los Angeles.
[h/t NBC Los Angeles]
>> Follow Alberto Luperon on Twitter (@Alberto Luperon)
Have a tip we should know? [email protected]