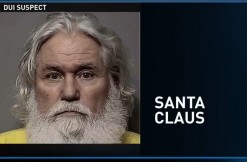 Santa Claus was arrested for a DUI. Not a mall Santa. A man, with the legal name of "Santa Claus" was cuffed. Seriously, look at that mugshot. Look at that bushy white beard. He really does exists!
Cops in Post Falls, Idaho say they pulled him over Thursday when he was driving the wrong way. "It should be noted that the vehicle was still in the wrong lane of travel," wrote the arresting officer in court records.
Fortunately for our memories of childhood, Claus was "cooperative throughout." The officer reported the smell of booze wafting from the vehicle, though:
Claus reportedly admitted to having three or four beers at a nearby restaurant. During a field evaluation, police say he had bad balance, and his breath test after arrest reached .130.
"St. Nick's" reported excuse for driving in the wrong direction: He was from out of town, and didn't know the area.
Thankfully, Santa can go back to making toys or whatever because he pled guilty to misdemeanor reckless driving, and got off with a $700 fine.
[h/t KREM]
–
>> Follow Alberto Luperon on Twitter (@Alberto Luperon)
Have a tip we should know? [email protected]