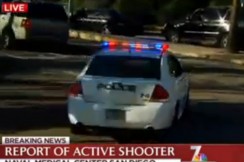 There may be an active shooter at the Naval Medical Center in San Diego, California, an NBC affiliate reports. The center posted a warning on its Facebook page at 8:08 am, Pacific Time.
There are few available details right now. Stick with LawNewz.com for updates.
[image via screengrab]
Updated — Jan. 26, 11:53 a.m. EST: NBC San Diego is providing live coverage of the incident. You can watch it here:
Updated — Jan. 26, 1:12 p.m. EST: Three gunshots were reportedly heard at the Naval Medical Center's Building 26 at about 8:08 a.m. PST, but no injures were announced. No shooter has been identified at this time.
Updated— Jan. 26, 1:44 p.m. EST: In a press conference, Captain Kurt Jones, commander of Naval Base San Diego, and Captain Jose Acosta, commander of the Naval Medical Center, said that the only evidence of a shooter was the initial report: apparent gunshots heard at about 8:08 a.m. PST. Nothing else has been found after sweeping the area. Still, the area is still under lockdown just in case.
–
>> Follow Alberto Luperon on Twitter (@Alberto Luperon)
Have a tip we should know? [email protected]