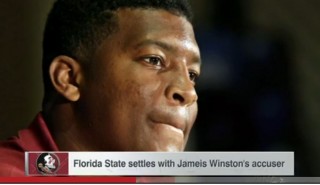 Jameis Winston has made quite the name for himself in recent years. He turned the Florida State University football program around during his time as their starting quarterback. Today, he is the starting quarterback for the Tampa Bay Buccaneers and performed a solid rookie season in 2015. In spite of his stardom, Winston has had a reputation for making the news for off-the-field activities. One story you make recall was when he was sanctioned by FSU when he received a citation for shoplifting crab legs from a Publix grocery store in 2014. However, Winston was in the center of an even bigger crime allegation. There were allegations that Winston raped an FSU student, Erica Kinsman, in December 2012. Talahasee police launched an investigation into the matter after Kinsman filed an incident report. Ultimately in December 2013, the local state's attorney office decided not to pursue rape charges against Jameis Winston, citing irregularities in the victim's account of the events. Following this, Florida State University conducted its own hearings in the matter and determined that it, too, would not punish Jameis Winston.
In April 2015, Kinsman filed a civil lawsuit against Jameis Winston over the events that transpired in December 2012. But in addition, Kinsman filed a civil lawsuit against FSU in January 2015. Kinsman alleged that FSU violated Title IX of the Higher Education Act in its handling of the sexual allegations against Winston, including FSU's athletic department knowing about the rape allegations and concealing them from the school's administration.
On Monday, it was reported that Erica Kinsman and FSU reached a settlement of $950,000. According to reports, this is the largest settlement for a Title IX lawsuit. However, it's not the total sum of $950,000 that alarms me. Rather, it's the division of fees that raises eyebrows. According to the settlement agreement, Kinsman will walk away with only $250,000 while her lawyers will take $700,000 of the settlement money. However, Page 2 of the settlement agreement states that the parties "understand and agree that the foregoing representation does not necessarily reflect the actual allocation between Kinsman and her counsel." Regardless of whether her attorneys are collecting $400,000 or the full $700,000, these numbers should turn some heads, and rightfully so.
Immediately, I thought it was quite ludicrous for Kinsman's attorneys to have such excessive legal fees for a case that ultimately ended in a settlement. As any good lawyer knows, we have to turn to the American Bar Association's ("ABA") Rules of Professional Responsibility to determine if these legal fees are excessive. In a nutshell, Rule 1.5(a) of the Rules of Professional Responsibility states that a lawyer shall not collect an unreasonable fee or charges for services it offers. The rule goes on to list numerous factors that go into determining the "reasonableness" of legal fees. Some factors include, but are not limited to, the amount of time a lawyer spent on the case, the fee customarily charged for cases similar in nature, whether the fee is fixed or based on contingency, and the experience of the lawyers involved.
This is not the first time the excessiveness of attorney's fees were called into question. In August of 2015, a district court in Virginia denied a settlement between Dollar Tree and a plaintiff class of current and former employees after the settlement called for the plaintiffs' attorneys receiving $1.9 million and the 4,209 class action plaintiffs only $300,000. As recent as December 2015, a federal judge denied a settlement between Nissan and approximately 1,500 class action plaintiffs after a judge found that the plaintiffs attorneys would be receiving $3.4 million of the $4.3 million proposed settlement.
The obvious difference between the two aforementioned cases and Kinsman's case against FSU is that Kinsman is not part of a class-action lawsuit. Class action lawsuits require court approval as per federal rules; that is not the case here. Furthermore, all signs indicate that Kinsman's settlement with FSU is final. What perplexes me is how Kinsman's attorneys could get away with collecting nearly 77% of the total settlement amount. Even if the Title IX lawsuit against FSU lasted for a full year, it would be hard to imagine the lawyers took such an exhaustive efforts as to justify such a large fee. I think any reasonable person would see that Kinsman's attorneys are blatantly violating ABA rules here if they were collecting such exorbitant legal fees.
Now,  Kinsman's attorneys told LawNewz.com that they are not collecting such a high amount.  They even said that it's FSU pulling a huge PR stunt.  But, Kinsman's attorney John Clune told me that the actual attorney fee pay-out is privileged information.  He said that FSU attaching that dollar amount to the fees are a "very dishonest representation."
Needless to say, an outcome has been reached and both sides are clearly happy that this case is closed. But here's a valuable lesson we can take away from this: if you intend to pursue a lawsuit or need legal representation, PLEASE talk to your lawyer about fees to avoid any surprises in the end.
Tony Iliakostas is a sports law contributor for LawNewz. He is the founder and host of his own sports law video blog called "Law and Batting Order." You can follow Law and Batting Order on Facebook and Twitter, and you can follow Tony on Twitter.
[screengrab via ESPN]
Have a tip we should know? [email protected]