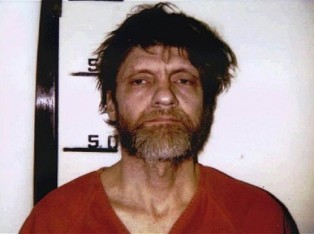 A review of hundreds of handwritten letters to and from one of America's most notorious criminal masterminds, Ted Kaczynski, reveals fascinating new details about the man the media dubbed the "Unabomber", including his thoughts on 9/11, his preference of Obama over Hillary in 2008 and how he almost married one of his pen pals.
As the 20th anniversary of the Unabomber's arrest approaches, Yahoo News reporter Holly Bailey spent several weeks reviewing an archive maintained in the Labadie Collection at the University of Michigan Library in Ann Arbor that contains over 90 boxes of handwritten letters written between Kaczynski and supporters, friends and curiosity seekers.
Kaczynski received his doctorate degree from the University of Michigan in 1967, and in 1985 he sent a mail bomb to the university that seriously injured a research assistant. Since his arrest and conviction, Kaczynski now sends a different type of package to the university every few months that contains handwritten "carbon copies" of his correspondence and other papers. The collection contains letters and papers dating from April 5, 1996 (two days after his arrest) to the present.
Kaczynski does not have access to the Internet and refuses to watch television out of principle, so he largely relies on his pen pals for information and updates on what is going on outside the walls of the supermax prison –ADX Florence—where he is housed.
After learning of the 9/11 attacks, Kaczynski –who unsuccessfully attempted to bomb an American Airlines flight in the 1970s– wrote of his surprise and desire to learn more about Al-Qaeda and Osama Bin Laden.  He also began reading the Quran to better understand Islam. The Unabomber said he might have been inclined to support Bin Laden had he simply been an opponent to modernity, but the desire to create a great Islamic power made UBL "just another ruthless and power-hungry politician."
Kaczynski also shared rather humorous thoughts about the Clintons, especially as it relates to Bill Clinton's impeachment. In the event Bill Clinton would've been imprisoned, the Unabomber did not expect to share a cell with the ex-president. Instead, he appears to have envisioned something along the lines of Pablo Escobar's La Cathedral, writing that he guessed a special prison modeled after a luxury hotel would be built to house the 42nd president, complete with golf course, pool and girlfriends. In 2008, Kaczynski wrote that if he could vote, he would support Obama over Hillary as the "lesser of two evils".
The letters also show a sensitive and caring side to this calculating killer. Kaczynski fell in love with one of his early pen pals, Joy Richards, a woman he called "lady love" and the two even explored the idea of marriage. Richards was diagnosed with cancer and died in 2006, after which Kaczynski expressed deep pain and anguish over the helplessness he felt about her illness and death.
The Yahoo News Special Report series on the Unabomer archives continues all week.
[h/t Yahoo News; image via FBI]
Have a tip we should know? [email protected]