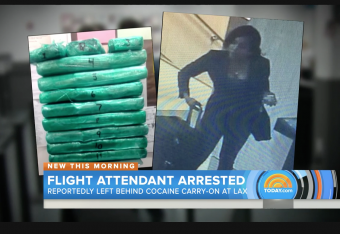 A Jet Blue flight attendant turned herself in on Wednesday after authorities filed charges accusing her of attempting to smuggle nearly 70 pounds of cocaine through the Los Angeles Airport last week.
The story made headlines earlier in the week after authorities said they were looking for a stewardess who ran from a TSA checkpoint at LAX, having left behind a pair of Gucci shoes and suitcase containing 11 bricks of neatly package cocaine weighting nearly 70 pounds.
According to the police, the stewardess, identified as Marsha Gay Reynolds, a former Jamaican beauty queen, was traveling through LAX last Friday using her Jet Blue employee badge when she was selected for additional screening at a TSA checkpoint.
Reynolds was asked to follow a TSA agent to a secondary search area when police say she kicked off her Gucci shoes, dropped her suitcase (containing the cocaine) and made a mad dash for the exit.  According to NBC News, TSA agents decided not pursue Reynolds because at the time they feared the dropped bag might contain explosives.  That decision allowed her to escape from the airport.
What is more concerning, however, is that Reynolds is believed to have returned to LAX the following day where she was able to board a Jet Blue flight to New York.  Sources told NBC News that authorities were still in the process of identifying her and hadn't had the opportunity to flag her before she boarded that flight.
Reynolds surrendered to DEA agents at JFK airport on Wednesday and she has been charged with possession of cocaine with intent to distribute.
[h/t NBC News; image via screengrab]
Have a tip we should know? [email protected]