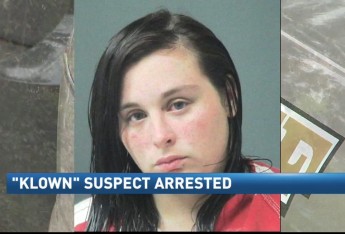 Police in Alabama announced the arrests of three individuals who are alleged to be behind some of the recent "Klown" threats floating around social media.
Local15TV.com reports Flomaton Police announced the arrest of Makayla Smith, 22, in connection with threats posted to the Flomo Klown and Shoota Clown Facebook pages.  Two unnamed juveniles were also believed to be involved in the threats, according to the report.
WATCH:
Despite the arrests, Flomaton police continued to send extra officers to the local high school's football away game in Mobile, AL.   Officers were also sent to another away game at Cottage Hill Christian Academy to ensure every one was safe.
News of the arrests seemed to bring both shock and relief to local residents.
"It's scary to know that it was right next door," neighbor Ashley Tidwell told reports. "Whether it was a prank or not, just knowing my daughter was here and these people were capable of doing that, it's a horrible feeling. We have several children on this road."
Several of the threats mentioned harming children.
Smith is currently in custody on charges of making terroristic threat.  Investigators do not believe she has any connections to the local school system.
Heat Street  reports the scary clown trend appears to have originated recently in South Carolina.  However, the Alabama incident  is "part of a wave of clown-related sightings that have terrified communities across the South — in Alabama, Georgia and South Carolina — in recent weeks."
Have a tip we should know? [email protected]ndcrime.com