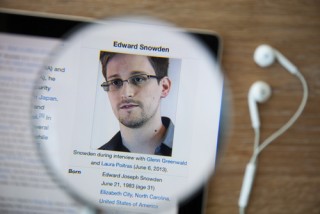 The Washington Post is under fire this morning after a Sunday piece in which the editorial board came out against a pardon for government whistleblower Edward Snowden. The Washington Post, The Guardian, and The Intercept were among the publications that published information that Snowden supplied regarding the United States' illegal use of wiretapping to spy on U.S. citizens. The Post went on to win a Pulitzer Prize for Public Service for their coverage of the NSA leaks.  However, despite that, the editorial board justified their stance in not giving Snowden (their source) a pardon by contending that Snowden did more than just expose that one particular program.
The board writes:
Worse — far worse — he also leaked details of basically defensible international intelligence operations: cooperation with Scandinavian services against Russia; spying on the wife of an Osama bin Laden associate; and certain offensive cyber operations in China. No specific harm, actual or attempted, to any individual American was ever shown to have resulted from the NSA telephone metadata program Mr. Snowden brought to light.
The Post argues that Snowden should come back from Russia and hash out his defense with a jury. "That would certainly be in the best tradition of civil disobedience, whose practitioners have always been willing to go to jail for their beliefs," the board writes.
Glenn Greenwald, who worked for The Guardian when the Snowden documents were leaked, fired back in a scathing opinion piece of his own. Basically calling The Washington Post editorial board a bunch of hypocrites. He wrote:
"[T]he Washington Post has achieved an ignominious feat in U.S. media history: the first-ever paper to explicitly editorialize for the criminal prosecution of its own source – one on whose back the paper won and eagerly accepted a Pulitzer Prize for Public Service. But even more staggering than this act of journalistic treachery against the paper's own source are the claims made to justify it."
The Twitter world was also pretty brutal:
Washington Post:
* chose what to publish
* made $$ off the stories
* abandoned the source
* won Pulitzer
& now say Snowden should be jailed

— Suzie Dawson (@Suzi3D) September 18, 2016
The height of hypocrisy @washingtonpost won Pulitzer Prize 4 publishing #Snowden says he DOES NOT deserve a pardon https://t.co/qi8EKZZSfl

— Curtis Sliwa (@CurtisSliwa) September 19, 2016
Washington Post editorializes in favor of prosecuting @Snowden over stories published in the Washington Post https://t.co/tZNHO3KBH9

— Matthew Yglesias (@mattyglesias) September 18, 2016
Snowden weighed in on twitter this weekend:
The government violated the rights of millions. Ask yourself: would you rather not know? The rest is distraction. https://t.co/v88ZWNys6w

— Edward Snowden (@Snowden) September 18, 2016
The Guardian, the New York Times, and The Intercept have all called for Snowden to be allowed to return back without facing criminal prosecution. These revelations come the same weekend that Oliver Stone's Snowden debuted in movie theaters, which is sympathetic to the ex-CIA contractor.
[image via shutter stock]
Have a tip we should know? [email protected]
Rachel Stockman - President / On Air Host