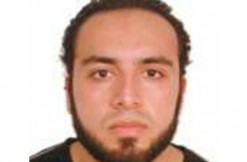 The suspect linked to a Saturday bombing in New York City has been caught, a law enforcement official told NBC New York. Ahmad Khan Rahami, 28, was arrested after a shootout with police in Linden, New Jersey.
We will update this story as more information becomes available.
Earlier information is available below.
***
A spokesman for the New York Police Department announced on Monday that they're looking for a man in connection to a Saturday bombing in the Manhattan neighborhood of Chelsea. The suspect's name is Ahmad Khan Rahami, 28. However, his alleged role in the incident hasn't been announced.
Wanted: Ahmad Khan Rahami, 28 year old male, is being sought in connection with the Chelsea bombing. #nyc pic.twitter.com/hSxhMqO7Qh

— J. Peter Donald (@JPeterDonald) September 19, 2016
A pipe bomb blew up Saturday evening on W. 23rd St. between Sixth and Seventh Avenues. At least 29 people were injured. Mayor Bill de Blasio called it "an intentional act." Another device, a pressure cooker rigged with wires and a cell phone, was discovered on W. 27th St. On Sunday, New York Governor Andrew Cuomo said they'd found no links to ISIS or other international terrorist organizations.
This happened the same day as a similar explosion at a Marine Corps charity run in New Jersey. There have been no announced links between the separate bombings.
Updated – September 19, 8:41 a.m.:
BREAKING: New York governor now says it looks like Manhattan bombing could be act of terrorism with foreign connection (via @AP)

— FOX Baltimore (@FOXBaltimore) September 19, 2016
Updated – September 19, 8:47 a.m.: Here's the FBI's wanted poster for Rahami. They said he should be considered "armed and dangerous."
Ahmad Khan Rahami – FBI Wanted Poster by LawNewz on Scribd

–
Follow Alberto Luperon on Twitter (@Alberto Luperon)
Have a tip we should know? [email protected]