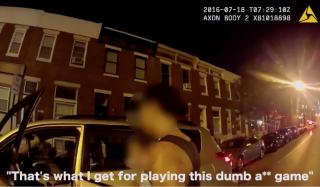 Looks like playing Pokemon Go is becoming more and more dangerous. Early Monday morning, a Baltimore police body camera caught a driver, who was playing Pokemon Go, barreling into a police car. The officers eventually chased down the driver who said that he was looking down and playing Pokemon Go while driving.
You can watch the body camera video below:
#PokemonGO is not all fun and games. Here is a video of a distracted driver who struck one of our cars. #PlaySafepic.twitter.com/kOTfbTcILo

— Baltimore Police (@BaltimorePolice) July 19, 2016
"That's what I get for playing this dumb a** game," the driver told the officers in the body cam video.
While no injuries were reported, the Baltimore Police has urged people playing the game to use caution.
"It's a game, but it's not a game when you're behind the wheel. This could have easily, easily been a tragedy," said public information officer T.J. Smith at a press conference according to ABC.
This latest accident is one of a string of mishaps and crimes that have taken place as a result of Pokemon Go. If you want to learn about how to keep yourself safe, read Lawnewz's article here or watch our Facebook Live below.
Have a tip we should know? [email protected]wandcrime.com