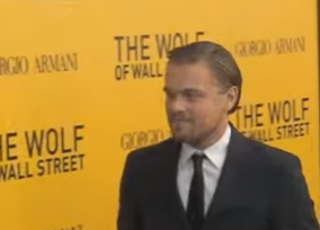 The 2013 movie "The Wolf of Wall Street" depicted the corrupt financial practices of Jordan Belfort, but according to a complaint that the Department of Justice filed on Wednesday, money used for the production of that film came from questionable sources, the Wall Street Journal reported.
The government's forfeiture complaint, filed in federal court in Los Angeles, looks to seize more than $1 billion in assets that were allegedly improperly acquired from 1Malaysia Development Bhd. (1MDB), an economic development fund in Malaysia. The money allegedly went to a number of people, including Riza Aziz, the stepson of Malaysian Prime Minister Najib Razak and co-owner of Red Granite Pictures, an L.A.-based company that was one of the producers of "The Wolf of Wall Street." According to the Hollywood Reporter, the complaint says that Red Granite Pictures received $64 million dollars from 1MDB. The assets that the DOJ is looking to seize include the rights to the movie, properties in New York, Los Angeles, and London, as well as art by Vincent van Gogh and Claude Monet.
Mr. Najib founded 1MDB in 2009 to help develop Malaysia's economy. The complaint reportedly describes a recipient of the money from 1MDB as "Malaysian Official 1," who the Wall Street Journal says appears to be Mr. Najib, although he is not named in the complaint. Other people who received significant portions of the funds include Jho Low, an associate of Mr. Najib's family with connections to 1MDB, and Abu Dhabi official Khadem Al Qubaisi, who also has ties to the fund. Attorneys for Low and Al Qubaisi declined to comment to the Wall Street Journal, and a spokesperson for Aziz said he has not committed any wrongdoing.
The complaint alleges that a deal between 1MDB and a Saudi Arabian oil company was used to divert at least $1 billion, and that hundreds of millions of dollars went towards paying Las Vegas gambling debts, yacht and jet rentals, and other luxury expenses. Funds from two bond offerings from 1MDB in 2012 went towards producing "The Wolf of Wall Street," more gambling debts, and real estate bills.
The DOJ's complaint is only looking to acquire the property that was allegedly purchased with illicit funds. It does not charge anyone with any crimes or other offenses, and is being done through the Department's Kleptocracy Asset Recovery Initiative.
Have a tip we should know? [email protected]