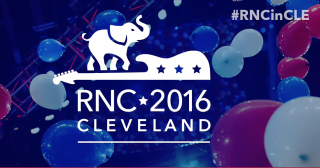 Republicans are denouncing Ohio Gov. John Kasich for ditching his own party's convention held in the state he governs.
Of course, he's not the only nationally known GOP leader to skip the proceedings.
It gets worse, though: None of Monday's or Tuesday's prime-time speakers at the Cleveland confab have donated more than $200 to Donald Trump's campaign or the super PACs that support him, according to an analysis by OpenSecrets Blog of FEC filings through May 31. In fact, as far as we can tell, only nine of the 25 speakers (or their spouses) Monday night and just seven of the 19 speakers listed for Tuesday gave money to any federal Republican candidates, PACs, or super PACs during the 2016 cycle — and that includes the $2,700 that New Jersey Gov. Chris Christie donated to his own presidential campaign. (Donors who have given less than $200 aren't named in FEC reports, so we can't say whether the individuals donated at all to the Trump effort.)
Former New York mayor Rudy Giuliani has given the most to other Republican candidates and committees: $22,434. That went mostly to the National Republican Congressional Committee and establishment Republicans like House Speaker Paul Ryan (Wis.) and Sen. John McCain (Ariz.). Giuliani's wife gave $567 to Trump's primary opponent, Sen. Marco Rubio of Florida.
Coming in at No. 2 is Dana White, president of the Ultimate Fighting Championship and scheduled to speak tonight. White has given a cumulative $16,200 to Chuck Grassley, Joe Heck and the Republican National Senatorial Committee. Also, former Attorney General Michael B. Mukasey gave $5,000 to former Florida Gov. Jeb Bush's leadership PAC, and $1,500 to Sen. Ted Cruz (Texas), another Trump primary rival. And, most surprising for a speaker at the GOP convention, Mukasey has given $400 to Democratic presidential nominee Hillary Clinton.
In addition, so far, the Republican National Convention's stage has been devoid of leadership figures who have endorsed Trump. That changes Tuesday night, when House Speaker Paul Ryan (Wis.) and Senate Majority Leader Mitch McConnell (Ky.) spoke.
This is not a pair afraid to ask for funds, nor do they have a hard time corralling them.
The biggest donors to Ryan's campaign committee and leadership PAC since 2000 include employees from Northwestern Mutual (including CEO John Schlifske); Blue Cross/Blue Shield (including former CEO Thomas Hefty); and Koch Industries (with donations from billionaire David Koch). They've given a total of $443,000.
McConnell's top contributors since 1998 to his campaign and leadership PAC, Bluegrass Committee, came from employees of the Blackstone Group (including CEO Stephen Schwarzman), Kindred Healthcare (CEO Paul Diaz, for instance) and health insurance company Humana Inc. (from now-CEO Michael McCallister). Their contributions total $729,577 over that time period. The Senate leader also is especially popular with retirees and those in the finance and petroleum industries.
Outside groups spent more than $22 million helping McConnell stay in the Senate in 2014, more than double the support his challenger, Alison Grimes, received from outside spending groups. The Kentucky Opportunity Coalition (a dark money outfit that spent $7.5 million against Grimes and received funds from the Property Casualty Insurers Association of America and Crossroads GPS, another dark money group, among others) and super PAC Kentuckians for Strong Leadership (backed by Robert McNair, owner of the Houston Texans football team and Lawrence DeGeorge, CEO of LPL Investment Group) played both defense and offense for McConnell.
Reps for both McConnell and Ryan did not return requests for comment on their party (or any other) schedules at the convention.
We'll continue to keep our eyes peeled. OpenSecrets Blog party-hopped until 1:30 a.m. Monday night, but it was a tad disappointing.
Corporate sponsors took over the Rock and Roll Hall of Fame for a bash scheduled to last until 2 a.m., studding the museum with five open bars, a DJ booth and dance floor with flashing lights, not to mention tables and tables filled with dinner, dessert and coffee spreads. The companies behind the festivities (AT&T, Blue Cross/Blue Shield, AFLAC, Microsoft and Pepsico) overestimated the attendance numbers, though, giving invitees five floors to roam. When OpenSecrets Blog reporters staked out the party, most areas appeared deserted, with small groups of people clumping around the food tables and bars, the majority of each floor empty.
Unfortunately, the event didn't seem to go as planned in other ways, too. Sens. John Cornyn (R-Texas) and Roger Wicker (R-Miss.) were scheduled to speak, but according to event organizers, both showed up and skipped out a short time later without doing any stage time. The offices of Cornyn and Wicker did not respond to a request for comment.
And while the Hall of Fame overlooks the North Coast Harbor Marina on Lake Erie, the "Rock and Dock" area wasn't hosting any boat-based bashes.
The most raucous gathering OpenSecrets witnessed was one of the pop-up shows by political supergroup Prophets of Rage, which includes members of Rage Against the Machine, Cyprus Hill and Public Enemy. The musicians drew a crowd to the Public Square Park even in the stifling heat, shouting lyrics into megaphones with background music blasting through large speakers.
Today, Alston & Bird, the law and lobbying firm, hosted a birthday celebration for former Sen. Bob Dole's 93rd at Morton's Steakhouse. We wanted to join in the fun but were politely asked to buzz off with not even a cupcake; others, however, told us that Gov. Sam Brownback of Kansas and Sens. Pat Roberts (Kan.) and Orrin Hatch (Utah) were inside, which must have been nice for Alston's clients, including Aetna, ConocoPhillips and Nokia. Other promising plans on Tuesday's schedule included the Marathon Petroleum kayak race featuring Sen. Rob Portman (R-Ohio) (which was a fundraiser for Wounded Warriors) and a Dentons celebration with Newt Gingrich.
—
Written by Ashley Balcerzak and Alec Goodwin from Open Secrets. Open Secrets is a non-partisan nonprofit organization which tracks money in U.S. politics.
Have a tip we should know? [email protected]