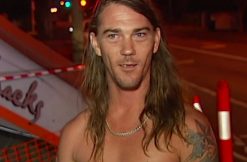 No one can say Daniel McConnell lacks charm. This guy reportedly helped local police catch a suspect while only wearing underwear. It happened in Brisbane, Australia on Thursday night.
A man reportedly crashed a car into a fish and chips restaurant, but the thing is, the business belongs to the mother of one of McConnell's friends.
"I've come outside and I've seen all of this commotion over here and I was in me jocks," McConnell told the Australian Broadcast Corporation. He said he'd heard the noise from the crash, and went to investigate only to find the driver. The suspect claimed to have fallen asleep at the wheel, but McConnell didn't believe him.
"All I had was me undies on and he started to take off up the street and I said: 'What are you doing, mate?' and I started following him," McConnell said. "He's like: 'Don't be a hero.'"
See his interview with "ABC" here. WATCH:

McConnell got in his own car, and started tailing the suspect. He flashed his headlights to grab police attention, and cops made the arrest. The 35-year-old suspect faces one count of unlicensed driving, and more charges are possible, Queensland state police say. Authorities also acknowledged McConnell's help.
He doesn't feel like a hero, though.
"It's just something you do for the community, mate," he told Today in a Thursday interview. "You look after your mates and your mates'll look after you."
Here's his Today interview:
"All I had was me jocks on and he was chasing me up the street and I'm just like, mate!" #9Today https://t.co/L2EtbWyNy3

— The Today Show (@TheTodayShow) November 23, 2016
[Screengrab via Australian Broadcasting Corporation]
Have a tip we should know? [email protected]