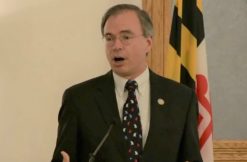 Inauguration Day comes January 20, 2017, but people nationwide are already gearing up for all sorts of controversy. Case in point: A congressman is threatening the University of Maryland, Baltimore County after school president Freeman Hrabowski said he wanted to stop federal immigration agents from deporting immigrant students.
"If UMBC wants to potentially threaten every dollar of their federal funding — which is considerable — then they should consider proceeding with their suggested policy of defiance of federal law," Congressman Andy Harris (R-Maryland) told The Baltimore Sun in a Thursday report. "As Congress is seeking ways to reduce the massive federal deficit, this would indeed be a risky gambit."
All this is over President-elect Donald Trump and his promise to change immigration policy. In 2012, the Obama Administration issued a new policy that exempted certain, young undocumented immigrants from deportation. The policy is called the Deferred Action for Childhood Arrivals, or "DACA."
That might change come January 20, since Trump campaigned on a strict, controversial immigration platform. He has promised to deport 2-3 million undocumented immigrants, and since DACA is based on an executive action, he'll only need an executive action to get rid of it. Whether this happens remains uncertain, though.
Less than 1 percent of students in the University System of Maryland attend school under DACA according to the Sun report. Nonetheless, school officials support the policy, and are gearing up for a fight if it gets eliminated. For Hrabowski's part, he's looking for ways that state and federal law allows him to make USMB a sanctuary campus for undocumented immigrants.
But Harris's threat isn't empty. He's a member of the House Appropriations Committee, and the GOP holds a majority of seats in Congress, to boot, so he some political capital.
[Screengrab of Rep. Harris via 'James Madison' YouTube page]
Have a tip we should know? [email protected]