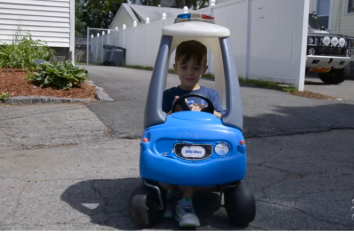 A Massachusetts father and his young son were out running errands over Memorial Day Weekend when the father rolled through a right turn on red.  The six-year-old then accused his father of breaking the law and warned that he would call the cops when they got home.  Sure enough, when they got home the boy picked up the phone and called 911.
"Um, daddy went past a red light," six year-old Robbie Richardson said to the police dispatcher in Quincy, MA.  He then proceeded to tell a very patient dispatch operator about how his dad was driving his mom's brand new car to the car wash when he ran through a red light.
After the dispatcher asked Robbie to hand the phone to his father, a surprised and embarassed Michael Richardson learned that his son was apparently not one to make idle threats.  Michael apologizes to the dispatcher and the two share a laugh before the call ends.
The Quincy Police Department then posted the audio of the call on YouTube.
LISTEN:
In an interview with the Boston Globe, Michael explains how they arrived back home and he went outside to start the grill so he could cook dinner.  He thought little of his son's comment in the car until the boy walked outside holding the cordless phone.
"He has the cordless phone in his hand and he says, 'Dad, somebody called, they want to talk to you,' " Michael told the Globe. "And I look at the number on there and I saw 911, and I kind of sank a little bit."
As for Robbie, his parents say they used the incident as a teachable moment and he now knows that you can turn right on red.  They also told him to only call 911 in true emergencies.
Robbie seems to have learned his lesson, too.
"When my daddy goes past a red light again, I'll call the eye doctor," Robbie told the newspaper. "So he can fix his eyes."
Michael says he learned a lesson too.
"He's a smart kid. When he says he's going to do something, he does it," Michael said. "He doesn't bluff."
Have a tip we should know? [email protected]