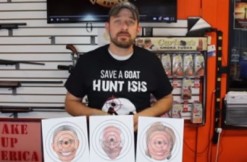 Question: Is it legal to put a real person's face on a gun target? What if that person is the President of the United States?
Gun store owner Andy Hallinan is selling three gun targets from his store, Florida Gun Supply. Each depicts a famous Democrat's face.
There's a bit of backstory to this.
Hallinan saw a Bernie Sanders bumper sticker one day, and put a "Muslim-free zone" sticker on top of it. Then he posted a selfie with the sticker on Facebook, apparently sparking outrage from Sanders supporters, who lashed him and his business on social media.
So Hallinan decided to escalate things, and make a gun target featuring Sanders' face.
"Basically, it was a big joke," Hallinan said in a video statement published Wednesday. "We really wanted to poke the bear a little bit. All these Bernie Sanders supporters were after us." So he made the Sanders target about a month ago. And the Clinton one. And the Obama one.
"It is our First Amendment right to have a target or anything that is in the likeness of any type of person whether it be a president or just a person on the street," he said. "It is legal to have a target that looks like somebody."
Here's a non-surprising spoiler: Hallinan claimed the Secret Service investigated him on Wednesday. He said he understood why he was scrutinized, but he said his targets weren't mean to incite violence. Instead, they were meant to show how strong the First Amendment rights are in America. And if you must know, he claimed the Secret Service investigators were "nice guys."
LawNewz.com's request for comment has not been answered by the Secret Service.
Wilfredo Amr Ruiz, spokesman for the Council on American-Islamic Relations, has criticized the targets, saying Hallinan broke federal law.
"Andy violated federal law by conveying a threat against the President of the United States," he said in a statement obtained by The Tampa Bay Times. "Promoting and selling a bulls-eye print of President Obama is not freedom of speech. Andy is inciting violence targeting the President."
One expert in the First Amendment says Hallinan is probably safe from legal action.
"Generally speaking the First Amendment protects such speech unless it could be said to 'incite imminent lawless action,'" Susan Buckley told LawNewz.com. She's an attorney at Cahill Gordon & Reindel. "Although I would hope that most people would find the targets offensive and irresponsible, the First Amendment should protect them."
Hallinan has clashed with CAIR before. In November, a federal judge dismissed a CAIR lawsuit against him. He'd declared his gun store a "Muslim-free zone."
–
Follow Alberto Luperon on Twitter (@Alberto Luperon)
Have a tip we should know? [email protected]