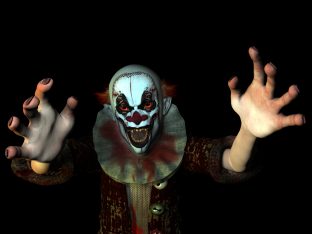 A large group of Penn State students decided to take action overnight after rumors about possible creepy clown sightings on campus started spreading on social media. Rather than locking their doors and cowering in fear, hundreds, if not thousands, of students took to the streets to find the clowns.
The Penn State incident is the latest in a series of creepy clown sightings that have been reported across the country in recent months. Police departments have reportedly been flooded with an increase in calls about creepy clowns, and an Ohio school district even canceled classes last week over a reported clown attack.
But when the rumors about clown sightings started spreading around Penn State on Monday night, students apparently decided they weren't about to let a creepy clown terrorize the campus. OnwardState.com reports groups of students started to gather on campus just before midnight, and that quickly turned into a large mob that converged on the Quad.
Beaver Stadium on a Saturday or Old Main during #PennStateClownWatch? pic.twitter.com/pznlzbVmyA

— Onward State (@OnwardState) October 4, 2016
Some students were not taking any chances and were reportedly spotted carrying tennis rackets, hockey sticks, golf clubs, and baseball bats. The mob then started to move beyond campus, all the while growing larger as it headed towards the downtown area.
3 Clowns spotted at PSU allegedly. So naturally 6,000 kids mob the streets to hunt it down. I love Penn State pic.twitter.com/P4xYx0nVhs

— Addison Carson (@AddiCarson) October 4, 2016
"I don't care about your race, color, or creed. F**k the clown," one student was overheard saying, according to a local reporter.
Another student, however, attempted to remind everyone that clowns are people too.
"That clown is someone's son," the student reportedly said.
As the mob continued to grow and word spread around campus, the "clown hunt" seemed to become the social event of the semester.
"The crowd was just running in the street — there hasn't been any vandalism, hasn't been any loitering. There hasn't been any criminal activity at all," a police officer told OnwardState.com.
It is reportedly still unclear how the rumors started, but some believe the hysteria may have started as some sort of fraternity prank.
No clowns were ultimately discovered, and after about an hour and half of running around the campus and downtown area, the crowd eventually returned home.
[image via Jeff Cameron Collingwood/Shutterstock]
Have a tip we should know? [email protected]