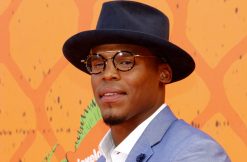 Cam Newton getting sued by Stacy Keibler's husband. Jared Pobre wants payback because of almost $100,000 in alleged property damage.
Here are the details from the lawsuit, obtained by TMZ sports. Newton, the quarterback for the NFL's Carolina Panthers, rented a Beverly Hills mansion from a rental company, which Pobre manages. This wasn't a small deal, the lawsuit states. The place was reportedly valued at about $11 million and the quarterback paid $123,000 to have it for 61 days. Accordingly, the company imposed strict rules. For example: no parties, no smoking, and no more than eight guests.
Well, Netwon allegedly broke those rules. A housekeeper told Pobre's company that the quarterback hosted several parties, and there were cigarette ashes throughout the house.  And it gets worse.  After Newton moved out, the lawsuit claims he left behind a broken fridge, water damage, ruined linens, and a ruined rug. Total alleged damage: $90,324.47, and $32,000 of that was just for the rug.
Pobre's lawsuit claims they sent the quarterback a bill for the damages, but Newton never paid.  Costs compounded from there: repairs took two weeks, which meant they couldn't rent out the house. Now Newton is being told to fork over $270,324.47 in damages.
We've reached out to him for comment, and will update when we hear back.
Keibler is known for her work as an on-screen character for WCW and the WWE, while Newton was the 2015 NFL MVP, and a three-time Pro Bowler.
[image via Tinseltown and Shutterstock]
–
Follow Alberto Luperon on Twitter (@Alberto Luperon)
Have a tip we should know? [email protected]