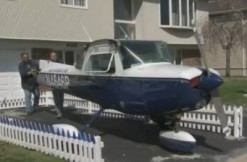 So you're bickering with the town government over that plane you are parking in the driveway. They've been riding you for about a year, and you've had enough of it. So you call the Hempstead supervisor's office, and threaten two people with a crossbow?
Harold Guretzky, of Oceanside, NY, was arrested Tuesday for allegedly doing just that, The New York Post reports. He faces two counts of second-degree aggravated harassment. An arraignment is scheduled for Wednesday. He's been held in lieu of $2,500 bail while the two town employees now have orders of protection, according to NBC New York.
It's the culmination of a year-long dispute with the town. The 70-year-old student pilot rankled people after he started parking his single-engine plane, "Spirit of Oceanside" on his driveway. Town workers dismantled and removed the plane last week while Guretzky was out of town, according to NBC New York.
"I'm glad I'm not there," Guretzky told the station on Thursday. "If I would be there—I have a crossbow—anybody who comes near that airplane, I'd shoot right through their f—ing chest."
1010 WINS reported that he said he parked the plane on his driveway after he couldn't afford the $150 monthly storage fee at Republic Airport in Farmingdale, NY. He'd racked up to $2,500 in fees for that decision as of July, CBS NY reported. He had a total of 17 different summonses when the plane got removed, according to NBC New York.
[screengrab via NBC New York]
–
Follow Alberto Luperon on Twitter (@Alberto Luperon)
Have a tip we should know? [email protected]