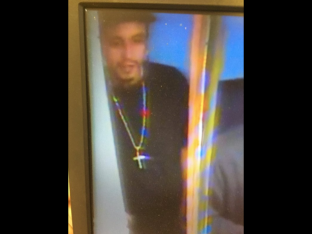 A fugitive murder suspect who has eluded authorities for four days apparently popped up on Facebook on Tuesday night to claim he acted in self-defense.
Authorities say Jared Jerome Stone fatally shot Baptiste Paul White Eyes after an argument outside a Sioux Falls casino last Friday.  Stone reportedly was seen leaving the scene of the shooting in a vehicle driven by Lachara Marie Bordeaux and he has been on the run ever since.  Authorities believe Stone was still with Bordeaux as recently as Monday evening.  However, when authorities arrested Bordeaux on Tuesday morning in Le Mars, IA, Stone was nowhere to be found.
Yet, on Tuesday evening Stone reportedly surfaced on Facebook to write a few posts defending his actions.  The Argus Leader newspaper managed to grab screenshots of the posts before the account was deactivated.
"Sorry to all of you I know who he was en nobody knows what happened only me (and) him(.) if they release the video of him plotting on (…) me the whole time(.) he wouldn't stop with the bull(expletive) (and) if anything its self defenses (expletive) all of you who doubt me," Stone wrote in the first post, according to the Argus Leader.
About an hour later, Stone wrote a second post that added some further details about the incident:
"I cant change what happened but Im sorry for the hurt i caused everyone know I will defend myself not run(.) I didnt want to fight over childish reasons this isnt my fault I (defended) myself en jus cuz I got a felony on my record dont mean ima give my guns up(.) aboutto vanish(.) I love my (family and) the real friends I do have(.) no matter what happens let my baby girl remember the father I was."
According to a new report on Wednesday morning, the accused getaway driver (Bordeaux) is telling authorities that she was held at gunpoint and forced to drive Stone away from the scene.  Bordeaux claims she managed to escape at gas station early on Tuesday morning.  Authorities in Minnehaha County do not seem to be buying her story, however.  They have charged her with two counts of accessory to a felony.
[image via Sioux Falls Police Department]
Have a tip we should know? [email protected]