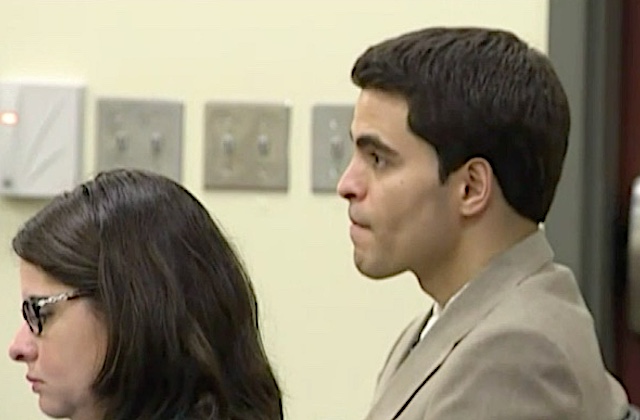 Florida prosecutors appear to have abandoned plans to call the autistic son of murder victim Megan Brown to testify against his father (and Megan's ex-boyfriend) Adam Matos. That's according to court records in the case.
Tristan was four years old when his mother was murdered. Also killed were Gregory and Margaret Brown, Megan's father and stepmother, and Nicholas Leonard, said by prosecutors and friends to be Megan's new boyfriend.
The boy's father, Matos, faces four first-degree murder charges in relation to the killings. If convicted of first-degree murder, a second phase of the trial could result in a death sentence.
Pretrial hearings raised questions about the child's veracity as a witness, though some of his words and actions provide possible – though questionable – insight into the crime.
Child Likely Present
Testimony at the Matos trial suggests that Tristan was more likely than not present in the home when prosecutors say his father shot Megan Brown in the left eye, shot Gregory Brown in the back, beat Nick Leonard to death, and both beat and asphyxiated Margaret Brown to death. Matos, the Browns, and the child all lived together.
Matos claimed he left the family's home after Megan Brown called police to report he had threatened her on the same day investigators theorize he committed the crimes. Matos claimed in at least two interviews to have left the home with Tristan after police were called and never returned.
However, investigators believe Matos returned home that night, killed the four, and remained on the property for days. Neighbors and two pizza delivery drivers have either told police or testified seeing Matos at the family home just after midnight the next day and several times over a series of subsequent days. One of the pizza delivery drivers testified that Tristan opened the door when she arrived.
Police eventually caught up with Matos and Tristan at a motel near a bus stop. They believe he was attempting to flee town but was unable to do so because the buses didn't run overnight.
Depositions
According to court records, attorneys attempted to depose Tristan twice leading up to trial. The first deposition occurred on October 8, 2015, and the second occurred October 24, 2017.
Though the depositions remain inaccessible in the court docket, motions drafted by the attorneys and depositions of others who assisted in caring for the child after Matos's arrest may offer some clues.
"Daddy Killed Mommy"
A defense motion later revealed that during one deposition, Tristan said, "daddy killed mommy," but the defense said Tristan affirmed later that someone else told him that and that there was nothing to suggest Tristan had personal knowledge of the murders.
The defense noted that Tristan's responses to other questions were "indiscernible or did not make sense." Further, TB kept repeating his name in response to other questions.
Chet Cougill, the lead detective on the case, said in a pretrial deposition that at one point, Tristan took a doll and struck it violently:
ATTORNEY: In your report you say he struck the doll in his hand. Was he holding it by the legs and just patting the palm of his hand or what was he doing?

COUGILL: He was like striking it. Like it put the doll on the table and then he would start striking it with his hand.

ATTORNEY: Sort of pounding on it?

COUGILL: Almost like a hammer motion, yeah.

ATTORNEY: And he was saying mommy, mommy, while he was doing this?

COUGILL: Yes.

ATTORNEY: Obviously, the child is disabled so there's no real explanation for this, right, other than you observing it?

COUGILL: Correct.
Cougill said later that it was unclear precisely what Tristan saw.
Amber Robinson, who worked with the state's child protective services office, said in a deposition that she cared for TB after the arrest of Matos but before family from out of state could pick him up.
Robinson said Tristan's autism prevented an interview and that his verbal skills were not well developed around the time of the murders.
Robinson said that a member of a state child protective team called "Pasco Kids First" attempted to interview TB. TB's communication back was mostly nonverbal.
Among the observations:
"He took this like beanie baby toy and he went over into — where the blinds are — he took the toy and wrapped the blinds around the doll's neck area and let it hang there."
One of the victims, Margaret Brown, was said to have been tied around the neck.
Also, in another play area:
"[H]e ended up getting little dolls and [the interviewer] would ask him questions, you know, where's mommy, where's daddy . . . at some point he grabbed the one doll and laid it on a bed and put a blanket over on top of the mommy doll. If [the interviewer] would ask him questions about daddy he ran out of the room."
Defense Objections
Defense attorneys objected to the state's attempt to introduce Tristan as a witness.
As the defense pointed out, under the Florida Rules of Evidence:
A person is disqualified to testify as a witness when the court determines that the person is:

(1) Incapable of expressing himself or herself concerning the matter in such a manner as to be understood, either directly or through interpretation by one who can understand him or her.

(2) Incapable of understanding the duty of a witness to tell the truth.
The defense argued that Tristan met both prongs of the disqualification test. According to those who attempted to interview him, Tristan both could not express himself clearly. The defense extrapolated that the failure to communicate resulted in TB also not understanding the inherent duty of a witness to tell the truth.
Prosecution Backs Down
The state decided not to call TB on October 27, 2017. The trial began just a few days later on November 3, 2017.
If prosecutors had, indeed, moved ahead, any proffered testimony by Tristan would have given the defense a relatively easy shot at a successful appeal. The state has a mountain of more reliable evidence against Matos in its possession, and prosecutors likely strategized that it was better to move forward with that evidence alone. Doing so reduced the risk of a successful defense appeal.
Have a tip we should know? [email protected]
Aaron Keller - Deputy Editor-in-Chief