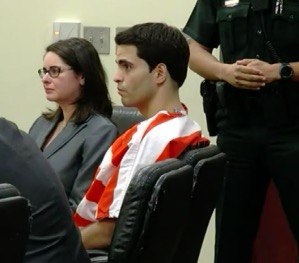 A Florida jury has recommended that Adam Matos be sentenced to life in prison for killing his former girlfriend and the mother of his child, her parents, and her new boyfriend. The same jury previously convicted Matos of four counts of first-degree murder for killing Megan Brown, Greg Brown, Margaret Brown, and Nick Leonard.
The jury's verdict came after a death penalty hearing which lasted a day and a half. Penalty hearings allow prosecutors to present "aggravators," or elements of the crime which a jury could find warrant a heightened penalty. Defense attorneys present "mitigators," or elements which could equate to a lesser penalty. Though the state is limited as to the mitigators it can present, the defense can present almost anything as a mitigator.
Prosecutors re-called a medical examiner to the stand to testify that the victims were in pain before they died. Matos shot Greg Brown twice in the back, the evidence at trial indicated. He also stabbed and beat Nick Leonard to death. (Matos himself took the stand during his trial to testify that he stabbed Leonard, then went back and beat him to death.) Prosecutors also called the boss of a local restaurant where Megan Brown had worked to testify that she was fearful Matos would kill her. The day the four murders occurred, Megan Brown called police on Matos and said he had threatened her with a knife. Brown later texted her boss at the restaurant that Matos had threatened to kill her, that she had fought back and wound up with a defensive cut, and that Matos had further threatened to come back and "finish her off."
The defense told jurors that it respected the jury's finding of guilt; however, the defense contested the existence of some aggravators. The defense also said Matos would present evidence about the circumstances of his life. Attorneys called Matos's mother, a number of relatives, and a middle school friend. Collectively, they testified that Matos loved his son (whom he fathered with Megan Brown) and that he loved his family. His mother testified that Matos had chronic Asthma from birth. The asthma led to several hospitalizations and prevented Matos from playing sports.
Adam Matos was bulled in school, his mother said, and for a while the Matos family lived in a car, his mother said. The family struggled financially. Adam Matos had no relationship with his father. His grandfather was an alcoholic who was verbally and physically abusive, his mother testified. At one point, the grandfather chased Adam Matos with a knife, she added, and that the grandfather frightened the defendant.
The mother further testified that she had a boyfriend who was physically abusive. Matos saw this boyfriend "body slam" his mother. One time, she was shoved so hard she was "crippled" for several months. This say boyfriend had drug abuse issues, she said. Another time, the family was involved in car accident in which three people died, Matos's mother testified.
Matos's brother corroborated much of the mother's testimony, but added that at one point, he and Matos were left alone when they were around ten and twelve years old to fend for themselves for two weeks. Documents submitted by the defense suggest the mother was vacationing out of the country at the time.
Matos and the Brown family moved to Florida less than two months before the murders. The Browns moved to live closer to relatives in Florida. Matos joined the Browns because they believed it was best for him to stay close to the son he shared with Megan. The son was autistic. Matos was expected to get a job and chip in for expenses.
A neighbor testified that Matos walked several miles each way to a job as a dishwasher at a restaurant. She stopped and gave him a ride to work at one point. Matos eventually came to her house and showed her a bike he had purchased.
Prosecutors cross examined several relatives by pointing out that they were supportive role models who could help Matos through difficult times and guide him towards correct decisions.
Have a tip we should know? [email protected]
Aaron Keller - Deputy Editor-in-Chief