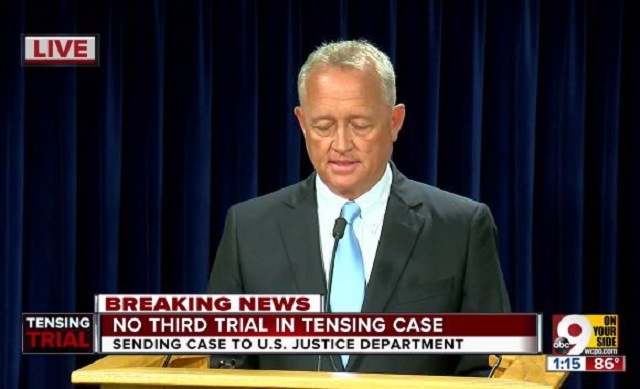 Former University of Cincinnati police officer Ray Tensing is facing a murder charge for shooting motorist Sam DuBose at a traffic stop in 2015. Tensing has already faced two trials for murder, with both ending in hung juries. Hamilton County Prosecutor Joe Deters held a press conference on Tuesday, announcing that he is electing not to try Tensing a third time.
"I have come to the conclusion that we cannot win a trial in this case," Deters said.
"I don't like it. My opinion of this case has not changed," Deters said. He explained that his decision is based on discussions that led him to believe that he would be unable to secure a conviction at trial, just as he was unable to do so the first two times.
"It rips my heart out," Deters said.
Despite the decision not to go forward, Deters said he will request that the U.S. Department of Justice pursue federal civil rights charges against Tensing. He said that federal prosecutors would be able to admit evidence in such a case that Deters was not able to use in the state's case.
[Image via screengrab]
Have a tip we should know? [email protected]