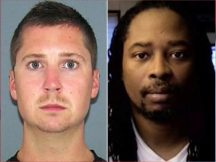 (AP)—An Ohio prosecutor says he's delaying comment on the case of a white police officer whose trial following the shooting death of an unarmed black motorist ended last week with a hung jury for the second time.
Hamilton County Prosecutor Joe Deters (DEE'-turs) has not said whether he'll try the case for a third time but plans to comment the week of July 10.
A mistrial has been declared twice in the murder and voluntary manslaughter case of Ray Tensing, who was a University of Cincinnati police officer when he shot Sam DuBose following a 2015 traffic stop.
Tensing attorney Stewart Mathews says he has been told by a reliable source that a majority of second-trial jurors voted to acquit on both charges. He declined Tuesday to comment further.
Have a tip we should know? [email protected]