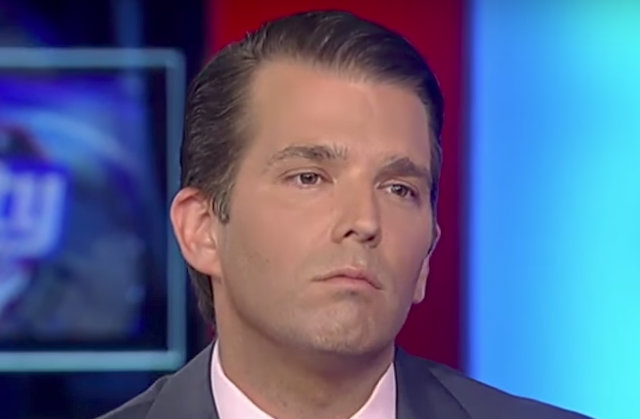 One of the people who attended Donald Trump Jr.'s meeting with a Russian lawyer has a bit of a backstory: Irakly "Ike" Kaveladze, the eighth figure publicly identified as part of the meeting, was accused in 2000 of being part of possible money laundering.
"What I see here is another Russian witch hunt in the United States," he told The New York Times back then.
The U.S. Congress didn't think so. At the end of a nine-month probe, investigators said he opened bank accounts at Citibank of New York and the Commercial Bank of San Francisco to funnel $1.4 billion for rich Russians and East Europeans. Kaveladze, an immigrant who came to the states from Russia in 1991, started over 2,000 corporations in Delaware on behalf of brokers, said the report by the General Accounting Office. The problem is that he didn't know who owned the companies, so the G.A.O chided the banks for failing to do their "due diligence" in IDing the accounts' owners.
Though Kaveladze denied the allegation, Citi Bank shut down the accounts, and reached out to the government.
"It is clear in hindsight that our systems and tracking procedures were not sufficient to detect the nature and extent of his relationship with us," Michael A. Ross, general counsel for the Global Consumer Business at Citigroup Inc., told the G.A.O. in a letter obtained by the Times. "Given enhancements to our systems and procedures, we are confident that we would detect questionable activity and take action more promptly should a similar situation arise today."
But the bank claimed outside counsel didn't see "illegal activity in the Kaveladze-related accounts." From the Times story:
The G.A.O. report said nothing about the sources of the money. In view of past investigations into laundering, this wave was highly likely to have arisen from Russian executives who were seeking to avoid taxes, although some money could be from organized crime.'
Kaveladze's presence at Trump Jr.'s June 9, 2016 meeting with Russian lawyer Natalia Veselnitskaya was confirmed Tuesday. Attorney Scott Balber, a lawyer for Emin and Aras Agalarov (two of President Donald Trump's friends and business partners), told The Washington Post about it. He said Kaveldze is a vice president for the Agalarov-owned Crocus Group, and came to the meeting believing he'd be a translator. Not so, since Veselnitskaya brought her own.
His interview also brought another interesting nugget: according to him, a representative for Special Counsel Robert Mueller called him over the weekend, and asked if Kaveladze could be interviewed. His client would cooperate, he said. This seems to show that Mueller is investigating the meeting.
The special counsel and several congressional committees are looking into whether Trump Sr.'s campaign colluded with Moscow to win the 2016 presidential election. Junior released emails last Tuesday showing that he was promised dirt on Hillary Clinton, and that this was part of the Russian government's support for his father. No related charges have been filed. The probes remain ongoing.
The president said there is nothing improper or illegal about the meeting.
Update – July 18, 3:37 p.m.: The Post story upon which this story is based had to be fixed. Their note:
Correction: An earlier version of this article incorrectly said that a representative of Special Counsel Robert Mueller contacted attorney Scott Balber to ascertain the identity of his client. Balber said the official already knew Ike Kaveladze's identity and called to request an interview.
 Accordingly, LawNewz.com corrected our own article to reflect this change.
[Screengrab via Fox News]
Have a tip we should know? [email protected]