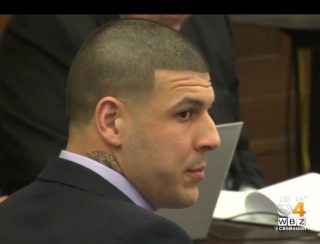 BOSTON (AP) — The Latest on investigative reports on the death of ex-NFL star Aaron Hernandez (all times local):
3:50 p.m.
Newly released prison records say ex-NFL star Aaron Hernandez was a member of the Bloods street gang.
A death report released Friday by Worcester District Attorney Joseph Early Jr. also says Hernandez once threated to kill a correction officer and his family.
The reports were released in response to a public records request from The Associated Press.
They show he was disciplined for the threats against a correction officer and for submitting a urine sample that tested positive for Neurontin, an anti-epileptic drug that is also used as a painkiller.
The events took place while he was housed in a Bristol County prison from 2013 to 2015.
He was found hanged in his cell at the Souza-Baranowksi maximum-security prison on April 19 while serving a life sentence for a 2013 murder.
___
8:45 a.m.
A Massachusetts prisons report says Aaron Hernandez was outwardly elated after his acquittal in a double murder trial and did not appear to have thoughts of suicide in the days before he killed himself in his prison cell.
The state Department of Correction report released Thursday also says there were no drugs in Hernandez's system when the former NFL star hanged himself at the Souza-Baranowski prison on April 19 while serving a life sentence.
The 132-page report was separate from a state police investigation also released Thursday. That report said Hernandez wrote a reference to a biblical passage in ink on his forehead and in blood on the wall.
The prisons department report says Hernandez knew a prisoner's convictions could be erased if he dies during his appeal, as Hernandez did.
[Image via screengrab]
Have a tip we should know? [email protected]