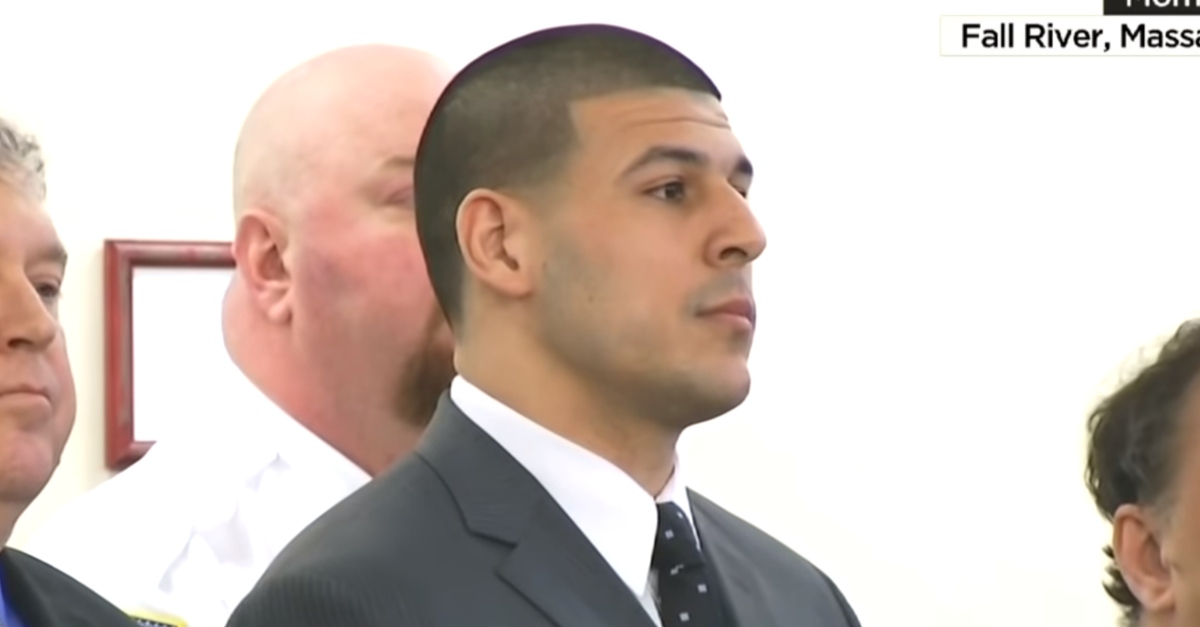 The Massachusetts Supreme Judicial Court on Wednesday reinstated the 2015 murder conviction of late New England Patriots tight end Aaron Hernandez.
Just out of the Supreme Judicial Court: Aaron Hernandez's first-degree murder conviction reinstated. Ruling was unanimous.

— Chris Ferreira (@ChrisFNews) March 13, 2019
Jurors had found him guilty for the 2013 murder of Odin Lloyd. That conviction was voided, however, because Hernandez apparently died by suicide during the appeals process (he was found hanging in his cell). As part of an obscure doctrine called "abatement ab initio," Hernandez's guilty verdict was overturned because he died before he was able to conclude the appeals process. In other words, he died without his guilt being final.
That changed Wednesday, and Hernandez is once again a murderer in the eyes of the law. The Supreme Judicial Court ruled that abatement ab initio is outdated, and has nothing to do with modern life.
And for the TL/DR crowd, here's the rub: pic.twitter.com/TiRJHNwN6w

— Bob McGovern (@BobMcGovernJr) March 13, 2019
From the ruling:
Rather, when a defendant dies irrespective of cause, while a direct appeal as of right challenging his conviction is pending, the proper course is to dismiss the appeal as moot and note in the trial court record that the conviction removed the defendant's presumption of innocence, but that the conviction was appealed and neither affirmed nor reversed because the defendant died.
Hernandez's death came shortly after his acquittal of the double murder of Daniel de Abreu and Safir Furtado. Jose Baez, one of his attorneys in the second trial, criticized the ruling. From a statement provided to Law&Crime:
Today's ruling comes as a significant disappointment to Aaron's family. However, it will be a hollow and short-lived moment for the Commonwealth, since this decision is not only cruel for Aaron's family, but also disappointing and discouraging to all of those families who seek to clear their loved ones' names, in a flawed system where wrongful convictions are reversed every day. While prosecutors may be cheerful with today's victory over a dead man, were that fighter not ill, and still alive today, the sentiment would be that of concern; based on the evidence we had ready to present, reversal of his conviction was a near certainty.
Note: Updated with a statement from Baez.
[Screengrab via CNN]
Have a tip we should know? [email protected]