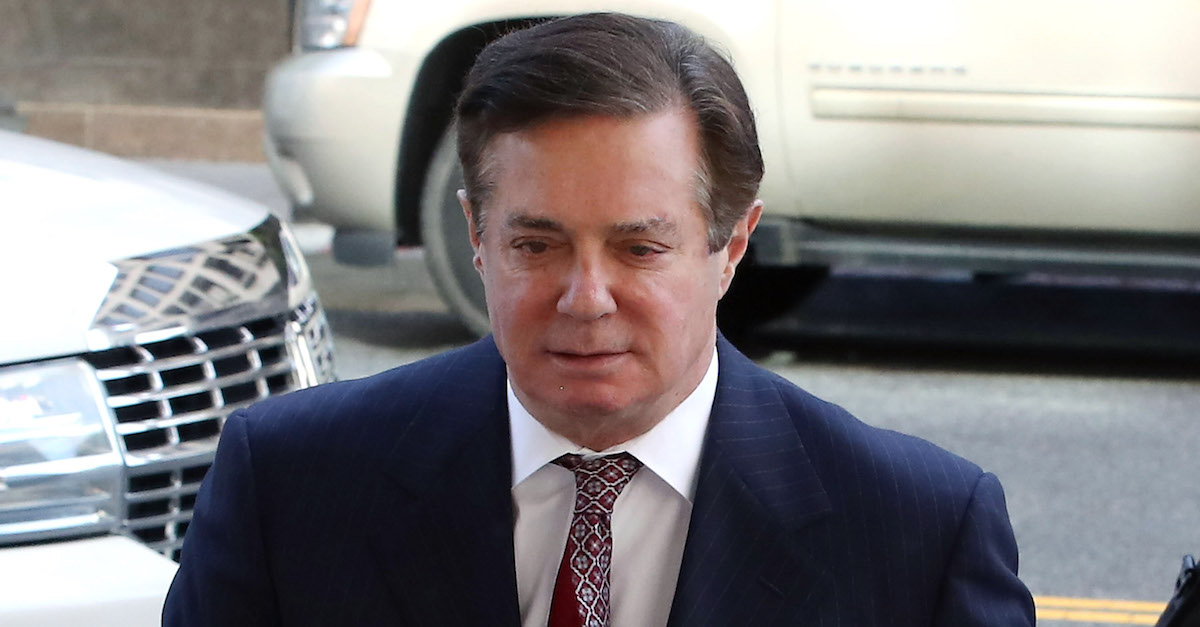 Paul Manafort learned his fate in a Washington, D.C. federal courtroom on Wednesday, as he showed up for sentencing in the case where he had pleaded guilty to conspiracy in connection with money laundering allegations. Judge Amy Berman Jackson announced that she was sentencing the former Trump campaign chairman to 73 months in prison, with 60 months on one count and another 13 on a second count. This comes after Manafort had been sentenced to 47 months in prison in a related case in the Eastern District of Virginia for tax and bank fraud offenses.
BREAKING: Paul Manafort has been sentenced to:
– Count 1: 60 months, with 30 months concurrent with EDVA sentence
– Count 2: 13 months, to run consecutive to count 1 and the EDVA sentence

— Zoe Tillman (@ZoeTillman) March 13, 2019
Judge Jackson said that 30 months of the D.C. sentence must run concurrent to the EDVA sentence because of the connection between the offenses. That means that the other 30 months for Count 1 in the D.C. case will be served after the 47 months in the EDVA case, and the 13 months for Count 2 will be served after that, for a total of 90 months, or seven and a half years.
Special Counsel Robert Mueller had sought a much lengthier sentence for Manafort in the Virginia case, where sentencing guidelines called for between 19 and 24 years. Judge T.S. Ellis III made a point of stating that those guidelines are not mandatory, before issuing a much lighter sentence for the 69-year-old Manafort. Mueller then filed a transcript of Ellis' sentencing hearing in the D.C. case, stating it was "pertinent" to Judge Jackson's decision in sentencing Manafort in the D.C. case.
Judge Jackson acknowledged the Virginia sentence, and stated that her decision is not a "review or revision" of that sentence. She also said that this is not meant to be an effective life sentence for the 69-year-old, and that he will have an opportunity to be better in the future.
Judge ABJ: "His life is not over. And he's going to have the opportunity to make something positive out of this, as he's suggested he will do."

— Britain Eakin (@BritainEakin) March 13, 2019
Supporters of Manafort sent letters to the court on his behalf, and Judge Jackson recognized this at Wednesday's hearing, saying she read all of them.
Jackson notes the letters she received from Manafort's family and friends: "I appreciate all the letters and I've read them all."

— Zoe Tillman (@ZoeTillman) March 13, 2019
Manafort was facing up to 10 years in prison in the D.C. case, which stemmed from alleged money laundering in connection with money Manafort earned  for political work in Ukraine. There was a question of whether Jackson would decide to make Manafort's D.C. sentence run consecutive to the Virginia sentence, or allow him to serve both concurrently. He has already received credit for nine months of time served. The judge answered this question by stating that a sentence for offenses related to others where he has already been sentenced must run concurrent. This apparently was in reference to Manafort's offenses related to taxes and failure to report foreign bank accounts, but not bank fraud.
Important: Jackson notes that if a defendant already has been sentenced to prison for relevant conduct, the sentence now must be concurrent. So that applies to the tax and failure to report foreign bank account counts he was sentenced for in EDVA, but not the bank fraud

— Zoe Tillman (@ZoeTillman) March 13, 2019
Judge Jackson also said that Manafort's guilty plea to conspiracy to interfere with witnesses is unrelated to the Virginia case, so his sentence for this does not have to run concurrent to his Virginia sentence. She noted that his leadership role in his crimes were to be taken into account, but on the other hand, so would his acceptance of responsibility.
Manafort had initially fought hard against both of the cases against him, challenging Mueller's authority in general and his ability to prosecute him for these particular offenses because they did not include charges for conspiring with Russia to help President Donald Trump's campaign. Mueller eventually revealed to the court portions of the memo sent to him by Deputy Attorney General Rod Rosenstein that allowed him to pursue Manafort, who had known Russian ties.
Manafort eventually pleaded guilty in the D.C. case, after losing at trial in Virginia and being accused of witness tampering while awaiting trial in D.C. He agreed to cooperate with Mueller's investigation of Russian election interference in the 2016 election and the Trump campaign's possible involvement. Mueller later accused him of breaching that agreement by lying, allegedly including false statements about communications with Trump administration officials and Russian political operative Konstantin Kilimnik.
One criticism that Judge Ellis made during the sentencing hearing in Virginia was that Manafort did not appear remorseful. He encouraged him to think about that before his D.C. sentencing. Apparently he did. Addressing Judge Jackson, Manafort wished to clarify how he feels. "I am sorry for what I've done and for all the activities that have gotten us here today," he said, claiming to now be "a different person" from the one who first appeared in court more than a year ago.
Manafort says he's upset at the pain he's caused his family, and has "already begun to changje": "I stand here today to assure the court that I'm a different person from the one who came before you in October of 2017."

— Zoe Tillman (@ZoeTillman) March 13, 2019
Manafort is one of several high-profile individuals in Trump's orbit who have now been ensnared by Mueller's investigation. Trump's former personal attorney and fixer Michael Cohen pleaded guilty to lying to Congress about Trump's business negotiations with Russia, and to campaign finance violations for arranging hush payments to Stormy Daniels and Karen McDougal in order to help Trump's run at the presidency. Manafort associate Rick Gates, who was Trump's deputy campaign chair, was a co-defendant in Manafort's cases and reached a plea agreement that resulted in his ongoing cooperation with Mueller's probe. Roger Stone is currently facing charges for allegedly lying about communications regarding his ties to WikiLeaks and knowledge of the hacking of Clinton campaign emails.
None of these cases, however, involve allegations that the Trump campaign illegally colluded with Russia to get Trump elected. Jackson made a point of saying that this case had nothing to do with collusion, and does not reach any conclusion as to whether collusion did or did not take place.
Judge ABJ: today's sentence will not answer the question of Russian collusion, and it will not be an indictment of the special counsel.

— Britain Eakin (@BritainEakin) March 13, 2019
[Image via Mark Wilson/Getty Images]
Have a tip we should know? [email protected]