On Friday, a note that Aaron Hernandez left in his cell that was recovered after the former New England Patriot was found dead in his jail cell was released to the public. The letter, addressed to Hernandez's fiancee Shayanna Jenkins-Hernandez, was one of three notes that Hernandez left behind.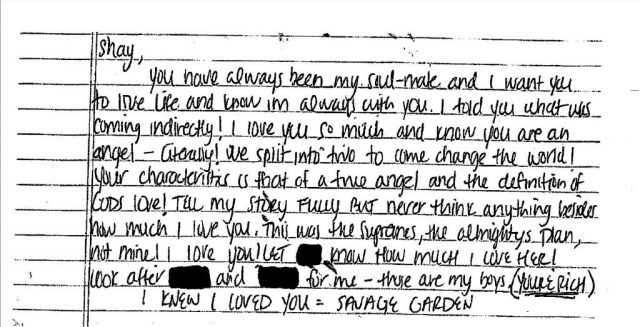 It reads:
Shay,

You have always been my soul-mate and I want you to live life and know I'm always with you. I told you what was coming indirectly! I love you so much and know you are an angel – literally! We split into two to come change the world! Your characteristics is that of a true angel and the definition of God's love! Tell my story fully but never think anything besides how much I love you. This was the Supreme's, the Almighty's plan, not mine! I love you! Let (redacted) know how much I love her! Look after (redacted) and (redacted) for me – those are my boys. (YOU'RE RICH) I knew I loved you = Savage Garden."
Hernandez was found hanging in his cell on April 19 while serving a life sentence for the murder of Odin Lloyd. Days before his death, a jury acquitted Hernandez of two other murders.
Have a tip we should know? [email protected]