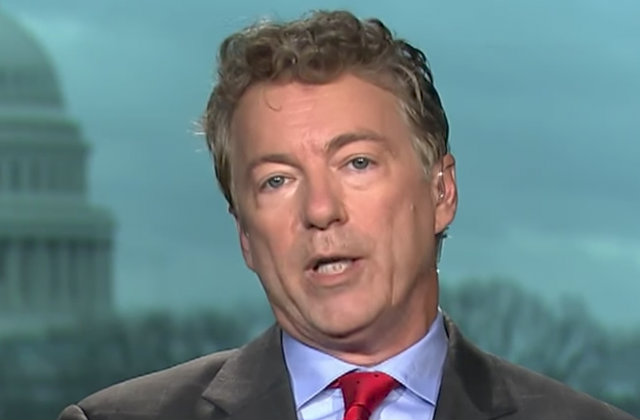 Sen. Rand Paul (R-Kentucky) announced Friday that he asked the White House and intelligence services to learn if he had been spied on by U.S. officials.
I have formally requested from the WH and the Intel Committees info on whether I was surveilled by Obama admin and or the Intel community!

— Senator Rand Paul (@RandPaul) May 5, 2017
He previously asked on Twitter if the Obama administration spied on other Americans, including politicians, reporters, or judges.
Did the Obama admin go after presidential candidates, members of Congress, journalists, clergy, lawyers, fed judges? https://t.co/h7rsjvNLHM

— Senator Rand Paul (@RandPaul) May 5, 2017
Did the Obama admin use warrantless "wiretapping" on other candidates besides @realDonaldTrump? https://t.co/h7rsjvNLHM

— Senator Rand Paul (@RandPaul) May 5, 2017
He linked to a media story in which Circa sent a letter to the White House and Director of National Intelligence Dan Coats, asking them to provide the number of Americans gathered in foreign intelligence who identifies were later revealed.
Paul later explained the Tweets in an interview with Breitbart.
"We've had several people come to us and say that it happened," he said. "I don't have access to that information, but I've been very concerned that too many Americans' information is being culled through without a warrant."
Paul already sent Trump a letter on April 10 asking if his name or the names of other lawmakers had been unmasked or queried or both in intelligence reports of intercepts during the Obama administration.
We reached out to the White House for comment.
President Donald Trump has accused his predecessor Barack Obama of running a surveillance program on him. FBI Director James Comey told the House Intelligence Committee in March that no evidence existed supporting the claim. However, Trump associates were reportedly incidentally observed as part of spying programs against Russia.
A Bloomberg News report said former White House National Security Advisor Susan Rice gave the order to unmask Trump campaign team members in intel reports.
Note: This article has been updated to include Senator Paul's comments to Breitbart, as well as background regarding the report of Rice unmasking Trump campaign team members.
[Screengrab via MSNBC]
Have a tip we should know? [email protected]