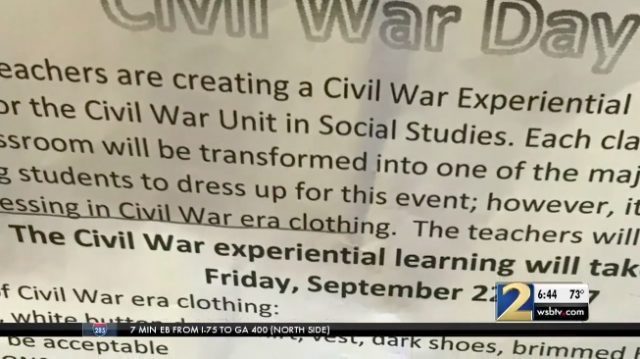 A black child in Georgia was apparently referred to as a white child's slave during a Civil War reenactment at an elementary school in Georgia.
The incident is said to have occurred late last month at Big Shanty Intermediate School in Kennesaw, Georgia.
Corrie Davis says her 10-year-old son, who is black, was accosted by a white student dressed as a plantation owner who said to him, "You are my slave." Davis' child did not dress up on the day in question. She said:
What I want them to understand is the pain it caused my son. This is bringing them back to a time when people were murdered, when people died, when people owned people.
School officials eventually met with Davis, but wouldn't promise not to hold further Civil War reenactments.
In fact, the school district later issued a statement that was almost defiant. Cobb County School System spokesman John Stafford issued a terse statement, which read,  "As part of an experiential learning activity dealing with the Civil War, students were given the option of dressing in period attire. No student was required to dress in period attire and any student that did so was not instructed, nor required, to dress in any specific attire."
But according to a report in the New York Post, a note sent home to parents by the school prior to the controversial reenactment event read:
Each classroom will be transformed into one of the major events of the Civil War. We are not requiring students to dress up for the event; however, it creates a more realistic simulation when dressing in Civil War era clothing. The teachers will be dressed up as well..BE CREATIVE and use your resources to ensure that your costume is as accurate as possible.
The note suggested male students wear overalls, or dark pants with a white button-down shirt. Davis said she believes the suggestion of overalls was pointedly meant to represent slave attire.
The note also included a picture of a man dressed in Civil War rega lia and contained an image of one of the Confederate flags.
In a Facebook video which has been viewed over 70,000 times as of October 14, Davis said:
If they're requiring that the costume be as accurate as possible…some kid is going to come to school dressed as a plantation owner. My son is going to be looked upon as a slave at the school.
Davis wanted to reiterate, however, that she doesn't object to the teaching of the Civil War or the entirety of the United States' ugly history viz. racial relations. She said, "I'm simply saying the way in which you are going about teaching this standard is offensive."
[image via screengrab]
Follow Colin Kalmbacher on Twitter: @colinkalmbacher
Have a tip we should know? [email protected]