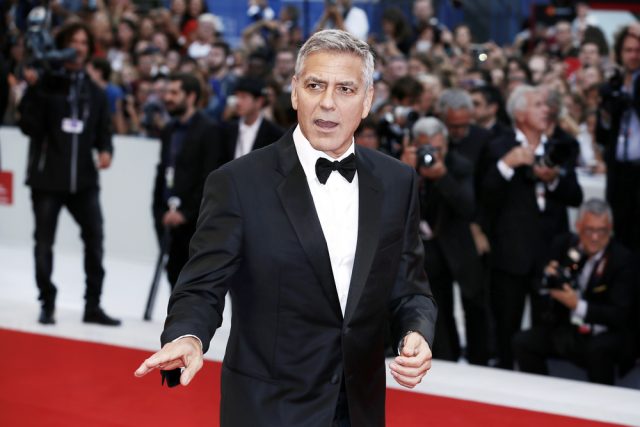 As fallout from the Harvey Weinstein revelations and accusations continues to mount, more and more of Tinseltown's A-listers are being called out for their alleged roles in Hollywood's long-running culture of secrecy, victim-shaming and abuse.
Next on the mat is actor, director and producer George Clooney, frequently referred to as one of the world's most beautiful men and the sexiest man alive. He also holds the distinction of being married to internationally-known human rights attorney and activist Amal Clooney née Alamuddin.
Clooney is accused of blacklisting actress Vanessa Marquez after she came forward with allegations of sexual assault and racially-charged abuse at the hands of multiple co-workers on the hit '90s NBC drama "ER". Clooney denies the allegations.
Last week, at the height of the Weinstein allegations, Clooney issued his own denunciation of the Hollywood mogul. In his statement, Clooney referred to Weinstein's actions as "indefensible," while claiming no knowledge of what allegedly transpired between the former Miramax head honcho and his female accusers.
Clooney's professed ignorance of Hollywood's apparent problem with sexual assault was too much for Marquez, who tweeted, "B.S.Clooney helped blacklist me when I spoke up abt harassment on ER.'women who dont play the game lose career'I did."
B.S.Clooney helped blacklist me when I spoke up abt harassment on ER.'women who dont play the game lose career'I did https://t.co/ur466NCkII

— Ghoul Please 👻 (@vanessathought) October 10, 2017
Marquez followed up her initial tweet on the subject by detailing some of the harassment she claims to have faced:
Sexual(pussy grabbing)&racial.Mexican jokes EVERY day.Happened to all the women.They chose 2b victims. I fought! #Blacklisted

— Ghoul Please 👻 (@vanessathought) October 13, 2017
Those accused of being "Pussy grabbers" are "ER" actors Eric LaSalle and Terence Nightingall.
As for the alleged racial abuse, Marquez has accused actors Anthony Edwards, Noah Wyle and Julianna Margulies.
To be clear, Clooney is not being accused of sexually assaulting or harassing Marquez himself. Rather, Marquez claims that Clooney played some role in covering up the charges and then making it difficult for the actress to obtain further work after she spoke out.
Marquez, who is perhaps known best for her role in the classic American coming-of-age film, "Stand and Deliver," has worked intermittently since playing a nurse during the first three seasons of the show.
According to Marquez, she first voiced her concerns to "ER" producer John Wells. Marquez says Wells' first response was to ask whether Clooney had done something to her.
After Marquez' tweets, Clooney responded via a statement. He wrote:
I had no idea Vanessa was blacklisted. I take her at her word. I was not a writer or a producer or a director on that show. I had nothing to do with casting. I was an actor and only an actor. If she was told I was involved in any decision about her career then she was lied to. The fact that I couldn't affect her career is only surpassed by the fact that I wouldn't.
LawNewz reached out to both Wells' and Clooney's production companies–John Wells Productions and Smokehouse Pictures, respectively–for comment on this story, but no response was forthcoming at the time of publication. This post will be updated if and when any such responses are received.
UPDATE: This article was updated with Clooney's statement.
[image via Shutterstock.com]
Follow Colin Kalmbacher on Twitter: @colinkalmbacher
Have a tip we should know? [email protected]