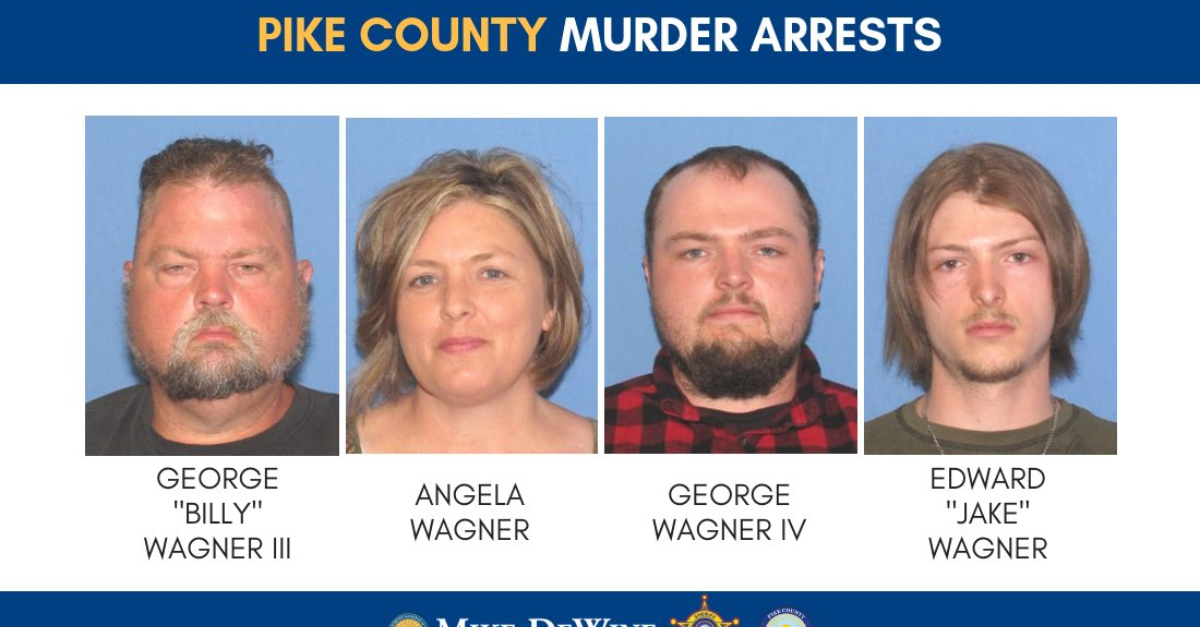 On Tuesday, the Ohio Attorney General's Office announced charges in 2016 murders of eight people. Four suspects have been accused: 47-year-old George Wagner III, his 48-year-old wife Angela Wagner, and their adult sons 27-year-old George Wagner IV and 26-year-old Edward "Jake" Wagner.
The suspects – a husband, wife, and their two adult sons – are now charged with killing eight people: seven members of the #RhodenFamily and the fiancée of one of the victims. We will release more information later today. #PikeCounty pic.twitter.com/IKf6luYSXQ

— Ohio AG Mike DeWine (@OhioAG) November 13, 2018
Eight family members were found dead. They were identified as 38-year-old Dana Manley Rhoden, 40-year-old Christopher Rhoden Sr., 20-year-old Clarence "Frankie" Rhoden, 19-year-old Hanna May Rhoden, 16-year-old  Christopher Rhoden Jr., 44-year-old Kenneth Rhoden, and 38-year-old Gary Rhoden. Clarence's 20-year-old fiancée Hannah "Hazel" Gilley was also killed.
Authorities previously said that everyone was fatally shot early on April 22, 2016. The bodies were discovered in three trailers and a camper. Autopsy results reported in September showed that Christopher Sr. was possibly the first to die. Investigators reportedly claimed that all but one of them were shot multiple times in the head. Gilley, for example, was shot in the left eye, and sustained a total of five bullet wounds. Kenneth was shot in his right eye. This crime was described as methodical.
BREAKING: arrests in massacre of Rhoden family in Pike Co… pic.twitter.com/K0WoijqNgY

— Tom Bosco (@tomwsyx6) November 13, 2018
The Wagners, who moved to Alaska after the shooting, have previously denied wrongdoing. Their attorney John Kearson Clark Jr. told the Dayton Daily News in April that the "Wagners had no reason to wish them harm."
Clark insisted on the family's innocence on Tuesday.
"Given the fact that the Wagners have been indicted with capital murder and death penalty specifications, we respectfully decline making any statements at this time," he said in a statement obtained by Law&Crime. "However, the Wagners eagerly look forward to their trials, and to have their day in court so they can vindicate their names. The Wagners are also ever hopeful that in the ensuing months there will be a thorough vetting of all the facts. Moreover, we look forward to the day when the true culprit(s) will be discovered and brought to justice for this terrible tragedy."
Edward "Jake" Wagner said in a July 2017 report from the Cincinnati Enquirer that he had a three-year-old daughter with Hanna Rhoden.
"Really the point to moving up here was to basically get into a better environment so they wouldn't talk about us. Sophia is getting older, so she wouldn't hear it," he said about his family's move to Alaska. In an email, he added that he didn't tell the girl about the mother being "killed/murdered. That would be too much for her to handle right now. She knows her mommy is visiting with Jesus and lives in her heart whenever she needs her. I did this for her best interest."
Note: Updated with a statement from Clark.
[Images via Ohio Attorney General's Office]
Have a tip we should know? [email protected]