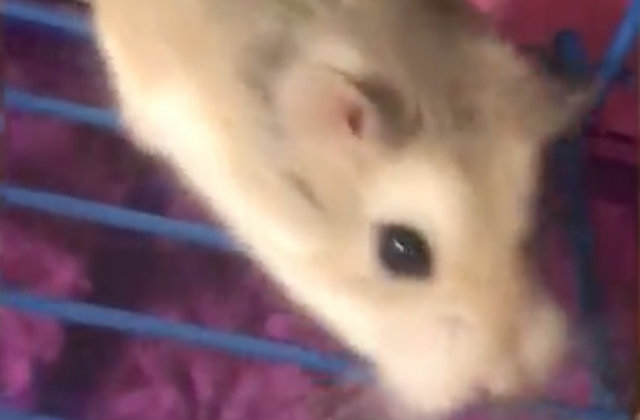 College student Belen Aldecosea claims she had to flush her emotional-support hamster Pebbles down a toilet because of bad information from Spirit Airlines.
"She was so loving," Aldecosea told The Miami Herald in a profile. "It was like she knew I needed somebody."
Aldecosea said she bought Pebbles after developing a painful growth in her neck. Her doctor certified the dwarf hamster as an emotional-support animal, she said.
The tumor ended up being benign, but so still so painful that she withdrew from Wilson College in Chambersburg, Pennsylvania, and planned a trip back home to Florida to get the growth removed. Aldecosea booked a flight from Baltimore's Washington International Thurgood Marshall Airport back down to Fort Lauderdale.
Aldecosea said she called the carrier Spirit Airlines ahead of time to ask if she could bring Pebbles on the flight. The phone representative said yes. The mistake was repeated, Aldecosea said, when she showed up for the flight on November 21: a Spirit agent checked in her and Pebbles without stopping them.
"They gave me the wrong information more than once," Aldecosea said.
That changed when another Spirit staffer reportedly stopped her right before the security checkpoint, and told her that rodents weren't allowed on flights, even in the cargo hold.
Aldecosea agreed to take a later flight, but didn't have friends and family in Baltimore to accept Pebbles. A Spirit staffer, she claims, suggested she either let the hamster free outside, or flush her down a toilet.
Aldecosea said she ran through her options–rental car agencies didn't have any availabilities, and the 21-year-old was too young to rent a vehicle anyway. She considered a Greyhound trip, but that would've been taken days.
"I didn't have any other options," she said, arguing that flushing Pebbles down the toilet was more humane than letting her run around in the cold to get hit by a car.
Spirit spokesman Derek Dombrowski said Aldecosea only got the story partially right. He said that records show that yes, the phone representative gave the college student bad information. That said, he disputed the claim that any employee suggested killing the hamster.
"To be clear, at no point did any of our agents suggest this guest (or any other for that matter) should flush or otherwise injure an animal," he told the Herald.
Aldocosea is thinking about a lawsuit.
"This wasn't a giant peacock that could pose a danger to other passengers," her attorney Adam Goodman told the outlet. "This was a tiny cute harmless hamster that could fit in the palm of her hand."
Goodman was referencing a similar case in which a woman couldn't bring her emotional-support peacock on a United flight. (That bird is still alive.)
[Screengrab via Belen Aldecosea]
Have a tip we should know? [email protected]