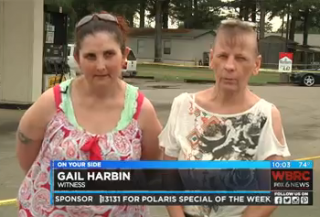 A theft case that was more than a year old may be closed soon, thanks to a television news interview. In April 2015, two people whose identities were unknown at the time were caught on security video robbing an antique store in Alexandria, Alabama, WBRC reported. But it wasn't until last Saturday that anyone was able to identify suspects, after the store owner saw them on TV.
Calhoun County Chief Deputy Matthew Wade told WBRC that the owner saw the women being interviewed on the news by that very station, and recognized them from the security footage. Authorities were able to identify the suspects as Sherry Robinson and Gail Harbin, who live together near the scene of a shooting that WBRC was covering.
Reporter Lydia Hu said the women approached her to be interviewed, and they appeared together on the 9pm and 10pm newscasts Saturday night.
The deputy who responded to the store owner's call went to the women's home, and found it to be furnished with items stolen from the store. Law enforcement officials also recovered 12 alleged marijuana plants. The statute of limitations prevented them from being charged with the theft itself, but they were arrested for possession of stolen property. Wade said they may also face charges for marijuana.
"We appreciate their willingness to get in front of a camera and expose themselves to hundreds of thousands of people, because it really helped us solve this case," Wade told reporters.
Have a tip we should know? [email protected]