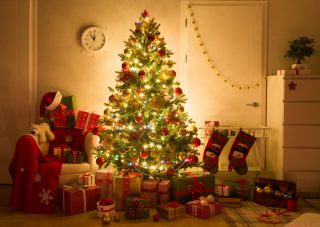 'Tis the season for holiday-related crimes, and according to police, Karen Elaine Harrelson was in the spirit this weekend when she allegedly threw a Christmas tree at another woman during a celebration at a home in Pennsylvania. The York Daily Record reported that police responded to a call about a domestic incident, where they found Harrelson smelling of alcohol and slurring her speech.
Here's what happened before the state troopers showed up. According to the Record, Harrelson was smoking inside the house, despite Kayla Renee Still telling her not to because there was a pregnant woman present. Still told authorities that Harrelson got mad when she was instructed to go outside to smoke, so she picked up a Christmas tree and threw it at Still. Both women ended up on the couch, fighting, with Harrelson allegedly pulled Still's hair, and Stills reportedly punching Harrelson in the face before someone else broke up the brawl.
Harrelson's daughter told officers that her mother has a history of violence, and court records do indicate that she has multiple prior arrests.  For this case, Harrelson was charged with two counts of simple assault and one count of terroristic threats, which seems strange, but the Pennsylvania statute for that is rather broad. Pennsylvania's Title 18 § 2706(a)(1) says that if a person communicates a threat to "commit any crime of violence with intent to terrorize another," that fits the bill. Allegedly, Harrelson told Still she would "whoop her (behind)," the Record reported, which apparently was enough for authorities to tack on the terror charge. She was released after posting $15,000 bail.
[Image via Shutterstock]
Have a tip we should know? [email protected]