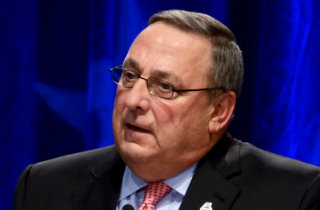 In a story that flew under the radar nationally, Maine's new minimum wage is quickly becoming a very contentious issue. A couple weeks back, Governor Paul LePage's state Department of Labor announced that violations of some of the rules (like those concerning restaurant waitstaff) would not be punished for the first few weeks the law is implemented. However, businesses "are expected to follow the law and pay the minimum hourly wage of $9." Critics of LePage have gone so far as to call the announcement a license to commit "wage theft."
LePage's announcement specifically states:
From Jan. 7, 2017, when the new minimum wage law is scheduled to go into effect, and until Jan. 31, 2017, the department will not bring enforcement actions against any employer who fails to comply with the change in the tip credit or the minimum salary requirement for overtime-exempt workers. Employers are expected to follow the law and pay the minimum hourly wage of $9.
The minimum wage increase was a state ballot initiative. It was approved by voters by a margin of more than 10 points, so it's only natural that his announcement has been met with a good bit of opposition.
"Governor LePage has now gone beyond ignoring the will of Maine voters and is flat-out encouraging employers to commit wage theft," Mainers for Fair Wages campaign manager Amy Halsted told the Maine Beacon. "Refusing to enforce the minimum wage law, and especially the increase in the base wage for tipped workers from $3.75 to $5 an hour, is a slap in the face to tens of thousands of Mainers who are working hard and too often struggling to afford heat, food and medicine."
Even if the Maine government doesn't bring enforcement actions, though, employers could still be subject to civil actions from employees who they withhold full wages from.
LePage has been fairly inflammatory in voicing his opposition to the minimum wage increase. In October, he said that some of the measure's supporters should be jailed for "deliberately and knowingly hurting Mainers." His argument was that the wage increase would lead to higher merchandise prices that would hit the elderly the hardest. "To me, when you go out and kill somebody, you go to jail. Well, this is attempted murder in my mind because it is pushing people to the brink of survival."
[Photo: Wikimedia Commons]
Have a tip we should know? [email protected]