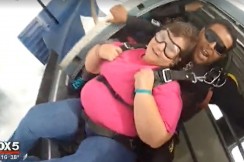 It's hard to imagine anyone would fake having a terminal illness, but here you go. Mary Bennett, 29, faked her Stage IV ovarian cancer, according to Forsyth County Sheriff's detectives.
Bennet was an active presence on social media, not only announcing she was allegedly ill and going on chemo, but that she had a bucket list. So many fun things she wanted to do before the "end" came. She allegedly told people she had three tumors on her brain, and one tumor on her brain stem, so her prognosis was apparently bleak. Well-wishers wanted to help her fulfill her dreams, and opened their wallets.
Altogether, she reportedly got at least $25,000, and other perks. For example: On other people's dimes, she went hunting, attended Atlanta Braves baseball games, and fished. She went on a fun ride-along with cops for a fundraiser. And skydiving. The skydiving! Having a terminal illness was never more fun.
That began to unravel last year when an unmarked envelope was sent to the Forsyth County Sheriff's Department. The contents suggested Bennett was a faker:
Investigators began digging. They contacted the hospitals she said she visited, and no, Ms. Bennett wasn't reported to have ever been a patient.
The "end" came: She was recently arrested and charged with theft (for milking the sympathetic), and forgery (for faking documents that she was ill in the first play). Bennett refused to speak to Fox 5 Atlanta when contacted.
[h/t Fox 5 Atlanta, image via screengrab]
–
>> Follow Alberto Luperon on Twitter (@Alberto Luperon)
Have a tip we should know? [email protected]