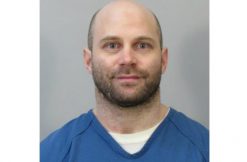 On Thursday, Wisconsin man Joshua Van Haften pleaded guilty after trying to join ISIS. He apparently wasn't casual about his membership either. The feds say he went as far as to travel overseas.
From the Department of Justice's announcement:
According to the government's evidence, Van Haften traveled to Turkey in 2014 and attempted to cross into Syria. He posted online that he had taken an oath of allegiance to the leader of ISIL [ISIS], and that "The only thing that matters to me is joining my brothers for the war against America [sic] liars."
The key phrase here is "attempted to cross into Syria." Van Haften, now 34, was apprehended and turned over to U.S. authorities. The feds say they arrested him when he was brought back to the U.S. in April, 2015.
He faces up to 15 years in prison. Accordingly, there's a sentencing hearing scheduled for Feburary 17, 2017. U.S. District Judge James D. Peterson is expected to preside.
"The defense is looking forward to the sentencing hearing where the judge will hear all the evidence and—we're confident—render a just sentence, as Judge Peterson always does," attorney Joshua Bugni told Law Newz.
ISIS, a federally designated terrorist organization, has a substantial presence in Syria and Iraq, and has been a regular topic of discussion during the 2016 presidential campaign.
[image via Dane County Jail]
–
Follow Alberto on Twitter (@Alberto Luperon)
Have a tip we should know? [email protected]