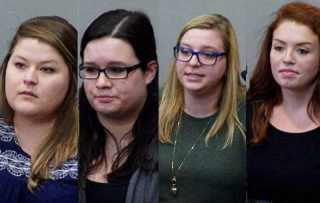 More witnesses took the stand for the prosecution on Thursday in the murder trial of Justin Ross Harris. Harris is accused of intentionally leaving his 22-month-old son Cooper in a hot car for hours, where he died. Harris claims it was a tragic accident, but the prosecution is arguing that it was intentional, and that Harris was looking to get away from the responsibility of having children. Harris, who was married at the time was allegedly engaged in online and text-based relationships with several women. Four of them took the stand today.
The first woman to testify was Alexandra Swindell. Swindell said she and Harris first sent messages, including sexual ones, over social media, before starting a physical relationship in 2012. She testified that they also sent each other sexual pictures. Swindell said that when they started messaging, she was 18 and he said he was 26. In reality, he was much older. She told the court that Harris told her he had a girlfriend, but did not say he was married or had a child. Swindell said she once jokingly messaged Harris about moving in with him. She also testified that she sent him a sexual messages on the day Cooper died, but Harris didn't respond to the last one.
–>WATCH TRIAL LIVE ON LAWNEWZ FACEBOOK
Molly Sims met Harris on a dating website when she was 18 years old. Sims said that she and Harris sent each other sexual messages and pictures for about two years. She said she was aware that Harris was married.
Elizabeth Smith took the stand next and discussed her relationship with Harris, whom she had messaged over the Whisper phone app. She described how they exchanged sexual messages and met in person for a sexual encounter. She was aware that he was married and had a child. Smith confirmed that she and Harris exchanged sexual messages the morning of the day of Cooper's death.
The last witness of the day was Jaynie Meadows, who discussed an emotional relationship that she had with Harris over text messages after meeting on a dating website. She was only 18 when it started, and wasn't interested in meeting in person at the time. She says he first said he was only 25, then eventually told her the truth and admitted that he was married and had a son. They eventually met in public, and Harris kissed her, she said. She told the court that she loved Harris, and that Harris often said he loved her. Meadows also testified that Harris told her that he loved his son.
Court will resume Friday morning at 8:30am ET. We will continue our LIVE trial coverage and analysis on our Facebook page.
Have a tip we should know? [email protected]