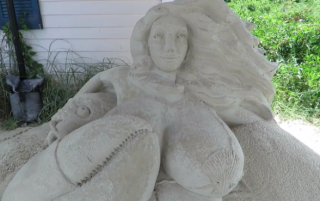 A sand sculpture outside of a Massachusetts diner is causing a wave of controversy. Salty's Diner in Yarmouth hired an artist to create a mermaid for the coastal town's Yarmouth Summer Celebration, WBZ reported.
The sculpture shows a voluptuous mermaid wearing sea shell bikini top riding a lobster. The sculpture, which is modeled after the diner's logo, isn't the only sand art in the neighborhood, as similar art pieces are common during the summer celebration. This particular one gained attention when it was featured on the Facebook page of the Yarmouth Police Department with the caption, "Yarmouth sand sculpture of the day." Apparently some people were uncomfortable, thinking that the mermaid was too busty, according to the Cape Cod Times.  Police Chief Frank Frederickson told the Times that some people commented that it was offensive. "That's not what I was looking at," one passerby told WBZ. "I was looking at the art myself."
"I felt that nobody knows what a mermaid looks like. Nobody's ever seen a mermaid and I wanted something totally different," Salty's owner Ray Roy told WBZ.
The picture was removed from the Department's page after people complained to the police, the Town Hall, and the Yarmouth Chamber of Commerce.
Despite the complaints, Roy said the mermaid isn't going anywhere, and he plans to bring it back next year. In fact, he said she "might be bigger and better."
Have a tip we should know? [email protected]