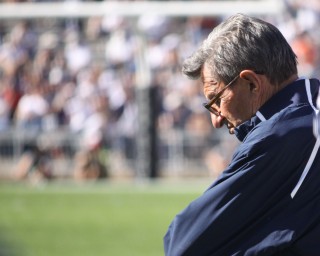 According to new court documents unsealed in a Philadelphia court, Joe Paterno, the legendary Penn State Head Coach, was aware of the abuse in the 1970s perpetuated by Jerry Sandusky, one of Penn State's former assistants who was convicted in 2012 of 45 counts of sexual abuse of young boys. One victim testified in court that he had been abused by Sandusky while he was showering and was shaken by it so he asked to speak to Paterno about it.  The victim, known in court documents as John Doe 150, testified that he specifically told Paterno about the abuse and that Paterno ignored him.
"Is it accurate that Coach Paterno quickly said to you, 'I don't want to hear about any of that kind of stuff, I have a football season to worry about,'" the victim's lawyer asked in 2012.
"Specifically. Yes . . . I was shocked, disappointed, offended. I was insulted. . . I said, is that all you're going to do? You're not going to do anything else," responded the victim.
In addition, the records also show that other Penn State coaches had witnessed Sandusky's train of abuses in the 1970s and 1980s. In addition, the records reveal depositions of other accusers who say they reported the abuse to Paterno or members of his staff in the 70s and 80s as well. The interesting part of these new findings is that these records imply that Paterno knew of the sexual abuse well before when he had previously claimed to have known about the abuse in 1998.
These documents first came to light in May when a line in a court order stated that a child had reportedly told Paterno that he was sexually abused by Sandusky. At the time, Pennsylvania State University President Eric Barron issued a statement that was obtained by the Orlando Sentinel.
"Penn State's overriding concern has been, and remains, for the victims of Jerry Sandusky. While individuals hold different opinions, and may draw different inferences from the testimony about former Penn State employees, speculation by Penn State is not useful. We must be sensitive to all individuals involved, and especially to those who may be victims of child sexual abuse. It also makes it much more difficult for Penn State to create an environment where victims of sexual abuse feel comfortable coming forward and where students, faculty and staff feel protected in reporting wrongdoing."
The Orlando Sentinel also obtained a statement The Paterno family gave through their lawyer in response to the unsealed court documents.
"The materials released today relating to Joe Paterno allege a conversation that occurred decades ago where all parties except the accuser are now dead. In addition, there are numerous specific elements of the accusations that defy all logic and have never been subjected to even the most basic objective examination. Most significantly, there is extensive evidence that stands in stark contrast to this claim. That Penn State chose to settle claims without fully assessing the underlying facts is something that the University obviously felt they had to do to help resolve this matter. We understand their desire for closure, but it does not remotely validate the assertions about an uncorroborated conversation with Joe Paterno. When the Sandusky scandal first became public in 2011, there was a lot of rhetoric in the media about using this case as a model to help prevent other child sex abuse scandals. Sadly, one of the lessons from the Sandusky tragedy is how not to investigate a crime of this type."
You can read the court order and the redacted or unsealed exhibits below:
Have a tip we should know? [email protected]