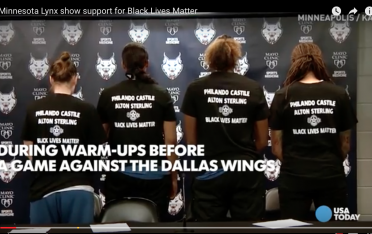 Several members of the WNBA's Minnesota Lynx wore t-shirts supporting 'Black Lives Matter' during warmups before a game on Saturday against the Dallas Wings.  The move appears to have angered four off-duty police officers that were working security at the Target Center arena in Minneapolis.  The four officers walked out in response to the players' actions and the local police union is now warning that more officers may refuse to work Lynx games in the future.
The Minneapolis Star Tribune reports several Lynx players held a pregame press conference where forward Rebekkah Brunson announced that they would be "wearing shirts to honor and mourn the loss of precious American citizens and to plead change for all of us."  The front of the shirts read, "Change starts with us, justice and accountability" and on the back, the names of Philando Castile and Alton Sterling appeared along with "Black Lives Matter" and a Dallas Police Department emblem.  The report states the players also spoke out against the shooting of the Dallas police officers.
The president of the Minneapolis Police Federation, Lt. Bob Kroll, told the newspaper that he "commended" the officers for walking out of the game. The Minneapolis Police Federation is a union that represents rank and file officers in Minneapolis, according to the report.
Lt. Kroll stressed that the officers were off-duty, working as independent contractors at the time they walked out. He also said that the four officers would not be working any future games for the team and warned that more officers may follow suit.
"If [the players] are going to keep their stance, all officers may refuse to work there," Lt. Kroll told the newspaper.  He was also reportedly critical of the players for "rushing to judgment" and for perpetuating "false narratives" surrounding other high-profile instances where the officers were eventually cleared of any wrongdoing.
In response to reports that up to eight officers walked out of the game, Lt. Kroll took a shot at the team, stating, "They only have four officers working the event because the Lynx have such a pathetic draw."
In addition to the off-duty police officers, the Target Center also retains private security guards at all events.
The Lynx organization released a statement that reads, in part:
The Lynx organization was made aware about the concerns of the off duty Minneapolis police officers," the team said in a statement. "While our players message mourned the loss of life due to last week's shootings, we respect the right of those individual officers to express their own beliefs in their own way. … We continue to urge a constructive discussion about the issues raised by these tragedies.
Minneapolis Mayor Betsy Hodges on Tuesday wrote a Facebook message in response to Lt. Kroll's remarks. She wrote, "Bob Kroll's remarks about the Lynx are jackass remarks."
Police Chief Janeé Harteau issued a separate statement obtained by the newspaper that states, "Although these officers were working on behalf of the Lynx, when wearing a Minneapolis Police uniform I expect all officers to adhere to our core values and to honor their oath of office."  The chief added, "Walking off the job and defaulting on their contractual obligation to provide a service to the Lynx does not conform to the expectations held by the public for the uniform these officers wear."
Have a tip we should know? [email protected]